Gunman who killed 12 at California bar identified as Ian David Long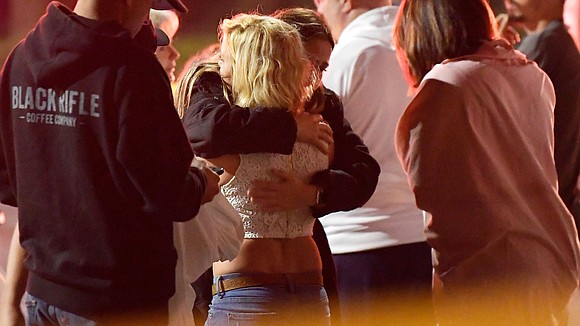 By Faith Karimi, Jason Hanna and Joe Sutton, CNN
(CNN) -- A US Marines veteran opened fire at a Southern California bar late Wednesday, killing at least 12 before killing himself, and sending panicked survivors scrambling through doors and windows to escape, authorities said.
Investigators believe Ian David Long, 28, used a legally purchased Glock 21 .45-caliber handgun with an extended magazine to shoot patrons, staff and a sheriff's deputy at Borderline Bar & Grill in Thousand Oaks, and they're trying to figure out why he did it, Ventura County Sheriff Geoff Dean said Thursday morning.
"We have no idea what the motive was at this point," Dean said.
"It's a horrific scene in there," he said earlier. "There is blood everywhere and the suspect is part of that."
Among those killed was Ventura County sheriff's Sgt. Ron Helus, who rushed in minutes after the first gunshots were reported at 11:20 p.m., Dean said.
Helus had been at the department for nearly three decades and planned to retire within the next year, the sheriff said, choking back tears.
"Ron ... gave his all and tonight, he died a hero because he went in to save lives," Dean said.
The shooting broke out during the Western-style bar's weekly line dancing and college night open to people 18 and older. People dropped to the floor and hid behind bar stools in stunned silence, witnesses said. Others jumped over chairs and broke windows to get out.
Taylor Von Molt, 21, said she was dancing when she "heard what I thought was a balloon pop."
"I heard it a couple more times, and I turned around and I saw him (the gunman)," she said. "He had ... what looked like a bandanna on the bottom on his face, sunglasses, black hoodie, dark jeans."
About 21 others were injured, many trying to escape, the sheriff's office said.
Law enforcement officials have yet to release the names of most of those who were killed or injured, and anxious friends and relatives gathered at a designated spot in the city to await word on what happened to their loved ones.
What we know about the shooting
'I started hearing these big pops' The gunman apparently arrived at the bar Wednesday night in a car, and shot an unarmed security guard who was standing outside, Dean said. Long then stepped inside, and apparently shot other security workers and employees and opened fire farther inside the club, the sheriff said.
Six off-duty law enforcement officers were in the bar when the shooting happened, Dean said. It wasn't immediately clear what happened to them.
A woman whose daughter was at the bar has said one of those officers "stood in front of her daughter, protecting her life with his own," Ventura County sheriff's Senior Deputy Julie Novak told CNN affiliate KCAL/KCBS.
Witnesses described a man clothed in black and wearing glasses as he walked onto the dance floor filled with people and began shooting.