Unprecedented? Trump aims to defy midterm campaign history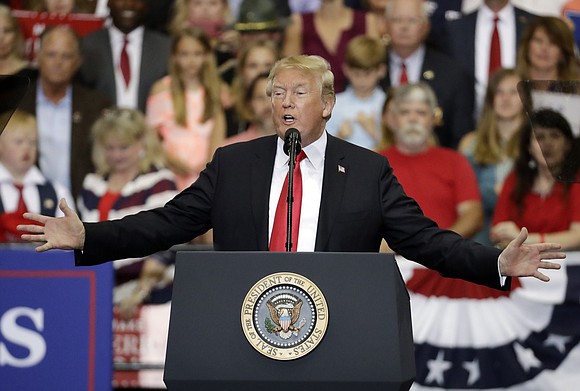 By Jeff Zeleny, Sarah Westwood and Pamela Brown, CNN
(CNN) -- President Donald Trump is deepening his investment in the midterm elections, stepping up his travel across the country to raise money and rally Republicans in hopes of overcoming the tide of history by retaining control of Congress in the fall.
Nearly every president in modern history has lost congressional seats during their first midterm election, a fact that Trump has told advisers he doesn't believe necessarily applies to him.
The top priority for the White House is holding the Republican majority in the Senate, which is critical for preserving the agenda and making judicial appointments for the remainder of the President's first term.
Trump is heading here to Texas on Thursday to do what party leaders say is the best way he can help: Raising money. He is set to mingle with GOP donors behind closed doors at a Houston luncheon, where the contributions range from $5,000 per person to $100,000 per couple, which allows a picture with the President.
"Your vote in 2018 is every bit as important as your vote in 2016," Trump told a gathering of social conservatives last week. He paused before telling the crowd, "I'm not sure I really believe that. I don't know who the hell wrote that line," he said to applause.
Yet the laughter underscores a brutal truth inside the White House: the President is already prioritizing his own re-election bid more than two years away.
He is also set to hold a fundraising dinner on Thursday evening in Dallas to benefit his campaign and the Republican National Committee. Those events have raised the eyebrows of some party loyalists, who believe Republicans should focus on 2018 before his re-election in 2020.
Trump filed his re-election papers at the time of his inauguration, more than two years earlier than his two recent predecessors. President Barack Obama didn't file for re-election until April 2011 and President George W. Bush until May 2003 -- both of which were after the first midterm elections of their presidency.
Red state pressure
Still, aides say, Trump is increasingly focusing on the November elections. He is set to increase his travel -- with a goal of at least one trip a week -- initially focusing on red states where Democratic senators are vulnerable.
In the coming weeks, aides say, he is poised to return to North Dakota, Missouri, Indiana and West Virginia -- all states he has already visited. He's also eyeing states where Republicans candidates face tough Democratic opponents.
That was the case in Tennessee, where the President traveled Tuesday to campaign on behalf of Rep. Marsha Blackburn, who is running to fill the seat Sen. Bob Corker will vacate. Blackburn faces former Democratic Gov. Phil Bredesen, who is considered a strong candidate even in the deep red state.
"When you win the presidency, for some reason you always end up losing the House," Trump told supporters in Nashville. "I think what happens is you get complacent."