2nd suspicious package found at FedEx after blast, police chief and FedEx say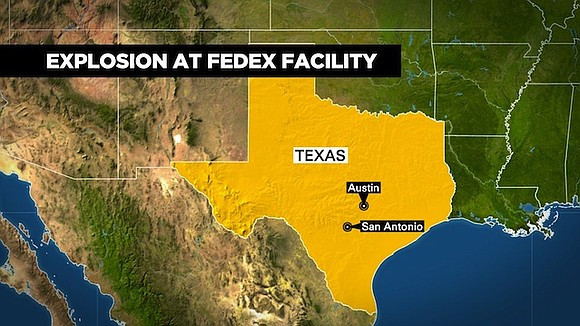 By Jason Hanna and Madison Park, CNN
(CNN) -- A package that exploded early Tuesday at a FedEx sorting center near San Antonio was not the only parcel there that investigators believe contained an explosive device, San Antonio Police Chief Bill McManus said.
Tuesday's blast in Schertz, Texas -- which officials said injured one FedEx worker -- came as four explosions, two of them deadly, have rattled the city of Austin, about an hour's drive northeast of Schertz, since March 2. The latest developments, including the revelation of the second package and hundreds more reports of dubious parcels, added to a mounting anxiety that one official described as "absolute panic."
"There was one other package" besides the one that exploded Tuesday at the FedEx facility in Schertz "that we believe was also loaded with an explosive device," McManus said late Tuesday morning during a news conference. That second parcel was no longer at the facility, and authorities were "working on" it, he said.
A FedEx spokesman said, "the individual responsible also shipped a second package that has now been secured and turned over to law enforcement."
The company also turned over to law enforcement "extensive evidence related to these packages and the individual that shipped them collected from our advanced technology security systems," Jim McCluskey added in a statement Tuesday.
Timeline of the bombings
Meantime, an Austin police bomb squad had been called in to investigate a suspicious package at a FedEx facility near Austin-Bergstrom International Airport, Officer Destiny Wilson said early Tuesday afternoon. The report was among more than 1,200 calls about suspicious packages that had come in to Austin police since March 12, the agency said.
Wilson did not know of any link between the package and the Schertz explosion, she said.
Key developments
• The FBI is investigating a "confirmed link" between packages involved in the Austin investigations and a mail delivery office in Sunset Valley, southwest of Austin, police in Sunset Valley said Tuesday. They did not elaborate, or indicate which packages were connected to the Sunset Valley office.
• President Donald Trump did not comment when asked Tuesday if he thought the bombings were acts of domestic terrorism. "Terrible. The bombings in Austin are terrible," he said. "This is obviously a very very sick individual, or maybe individuals. These are sick people and we will get to the bottom of it. We will be very strong." Trump called the situation "absolutely disgraceful" and said of those responsible: "We have to find them really immediately."
• At the Schertz FedEx facility, a package that was moving along an automated conveyor exploded around 12:25 a.m. Tuesday, Schertz Police Chief Michael Hansen said during a news briefing Tuesday morning outside the building.
• A worker standing near the explosion complained of ringing in her ears, and was treated and released, Hansen said. However, McManus later said a worker was knocked off her feet and suffered a concussion.
• Based on preliminary information gathered at the scene, there could be a connection between the Shertz blast and the four Austin explosions, FBI San Antonio spokeswoman Michelle Lee said. "We suspect it is related to our investigation," Lee said.