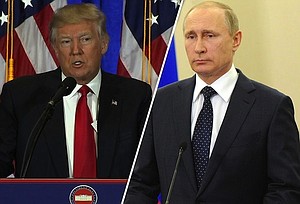 By Zachary Cohen, CNN
(CNN) -- With a sudden flurry of plans for high-level contacts between Washington and Moscow, President Donald Trump appears to be telegraphing an upcoming meeting with Russian leader Vladimir Putin -- a controversial push to engage the Kremlin at a time when relations between the US and key European allies are rapidly souring.
Trump and Putin are planning to meet around the time of Trump's trip to the UK and the NATO summit in mid-July, two diplomatic sources familiar with the matter told CNN last week.
The two leaders have met before on the sidelines of global forums, but the recent push for a one-on-one summit is shining a new light on their complicated relationship -- one that has been under increased scrutiny as special counsel Robert Mueller investigates any potential ties between Russia and Trump campaign associates.
The potential summit highlights gaps between Trump's consistently positive rhetoric about Russia and more critical comments from administration officials such as Secretary of State Mike Pompeo and Defense Secretary James Mattis.
It also underscores the increasing tension between the US and its traditional Atlantic allies, particularly after a contentious G7 meeting in June where Trump blasted fellow leaders and said Moscow should be reinstated in the group of advanced economies.
No official announcements have been made about a Trump-Putin meeting. One diplomatic official told CNN that the Trump administration wants the meeting in Washington, but Moscow has insisted on neutral ground. The official added that Vienna is the likely location.
Trump himself has been noncommittal. Asked about a possible sit down with Putin earlier this month, the President told reporters "it is possible we will meet."
Their meeting would be the highest level contact among several being arranged with Russia across the US government.
National security adviser John Bolton is scheduled to travel to Moscow this week to discuss the potential summit. CNN reported last week that Bolton has taken the reins when it comes to dealing with Russia.
A group of Republican senators will also head to Russia this week, two members in the congressional delegation confirmed to CNN on Thursday, and Energy Secretary Rick Perry is expected to welcome his Russian counterpart in Washington in the coming days, according to the Wall Street Journal.
The Department of Energy did not respond to CNN's repeated requests for comment.
Several officials across the US government have been engaging with the Russians in recent months, discussing issues facing both countries, such as operations inside Syria and the overall security situation in Europe.
America's top military officer -- Gen. Joseph Dunford, the chairman of the Joint Chiefs of Staff -- has been in consistent contact with his Russian counterpart, Gen. Valery Gerasimov and Secretary of State Mike Pompeo spoke with Russian Foreign Minister Sergey Lavrov as recently as Monday.
Pompeo and Lavrov "discussed some aspects of bilateral relations, including the schedule of political contacts between Russia and the United States for the near future," according to a Facebook post by the Russian embassy.