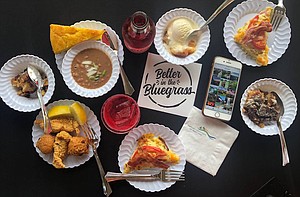 Calling all food lovers and adventure goers! The state of Kentucky is merging the best of both worlds and introducing an all-new state parks culinary trail, which features nine awe-inspiring state parks and their mouthwatering signature, regional dishes. That's right, grab your fork and come hungry around the table with the backdrop of Mother Nature to taste succulent professionally prepared cuisines.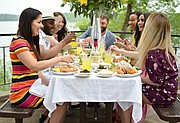 A group of chefs, farmers, food producers, historians and tourism professionals created nine signature meals to highlight what makes each region so special and different. The flavor-packed entrees represent the tastes and ingredients of each particular region. We invite you to take on the challenge to travel to each state park and sample the trademarked dishes that are representative of each region's rich cultural and culinary heritage.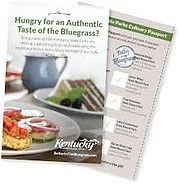 Have you ever heard of a National Park Passport booklet before? Pretty much, it is a passport to the country's national parks that provides information and encourages visitation to all of America's national parks. Well, just like the National Park Passport booklet, the Kentucky State Park Culinary Tour is very similar. The first step is to stop by the front desk of any Kentucky state park and pick up your culinary passport to start your exciting culinary adventure. For those who love to eat and collect stamps, this is perfect for you! Next up, take your culinary passport to any of the participating nine parks. Savor regional dish of the area, and then get your passport stamped. Finally, when you have collected stamps from all nine participating parks, mail your passport back to the Kentucky Department of Tourism for a free gift!
Not only do you get to enjoy a taste of different meals from different regions, you also get the outdoor, mother nature experience as well; clearly making this the perfect summer vacation trip before the kids are back-to-school. Whether the family (or friends) wants to bike, climb, hike, or go on an all-terrain vehicle (ATV) or off-highway vehicle (OHV) riding adventure, Kentucky surely meets all culinary and recreational needs surpassing any expectations.
For more information visit: www.kentuckytourism.com or www.betterinthebluegrass.com/trail