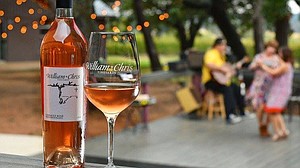 William Chris Vineyards, 100% Texas-grown wine produced in Hye, Texas, is pleased to announce their partnership with Victory Wine Group for a statewide distribution of their crowd favorites Mary Ruth and Skeleton Key Red, along with the newly added Skeleton Key White and select limited release wines to restaurant and retail locations across Texas.
"When Bill and I founded William Chris Vineyards, we never thought about distribution being a significant part of our business model, especially not in retail," says WCV Co-Owner Chris Brundrett. "Today, Texas wines account for less than 5% of the wines consumed in this state, and we aim to change that. Victory Wine Group has a great team, and their expertise is a natural match for our brand."
"We are thrilled to welcome our first Texas producer into Victory Wine Group's portfolio," says Meghan Caiazzo, Victory Wine Group Vice President of Sales. "For us, it makes sense to work with like minded partners who focus on 100% Texas grown wines."
Brundrett and his business partner William "Bill" Blackmon pride themselves on sharing the genuine taste of Texas terroir while delivering a one-of-a-kind experience. With the Victory Wine Group partnership, WCV wines will be available for the first time ever in retail locations like Whole Foods Market, Central Market, H-E-B, and Twin Liquors, and the list will continue to grow into markets throughout the state.
"Whole Foods Market is excited for William Chris to join our lineup of local vendors in many of our Texas stores," said Tara Treffry, Whole Foods Market Director of Culinary in the Southwest Region. "Beautiful fruit and a unique style are signatures of this truly special Hill Country winery, and we look forward to sharing William Chris wine with our Texas customers."
Up-to-date information on the wines and where they are carried can be found by visiting williamchriswines.com.