Former coaches come out in support of Jim Jordan amid OSU wrestling sex abuse allegations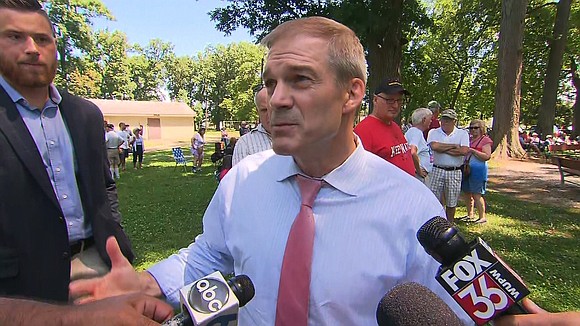 By Sara Ganim and Elizabeth Joseph, CNN
(CNN) -- Former Ohio State University wrestling coaches showed their support for fellow former coach Jim Jordan Monday, saying they believe his claims that he was not aware of sexual abuse allegations against a former team doctor.
At the same time, Norm Eisen, President Barack Obama's ethics czar, and Fred Wertheimer, president of Democracy 21, a nonprofit watchdog group, filed a request with the Office of Congressional Ethics to launch a preliminary investigation into Jordan's denials that he knew of the abuse.
"What has been said about Jim Jordan is absolutely wrong. We all worked on the wrestling coaching staff during Jim's tenure at The Ohio State University. None of us saw or heard of abuse of OSU wrestlers. The well-being of student-athletes was all of our concern. If we had heard of any abuse, we would have spoken up," said the statement, signed by former head coach Russ Hellickson and former assistant coaches Dave Ruckman, Rex Holman, Ken Chertow, Myron Kharchilava and Kenny Ramsey Jr.
"At no time while Jim Jordan was a coach with me at Ohio State did either of us ignore abuse of our wrestlers," Hellickson added.
But a former OSU wrestler told CNN that Hellickson and Jordan had to have known athletes were wary of the actions of Dr. Richard Strauss, the former OSU doctor who treated athletes.
The alum, speaking on the condition of anonymity, said he and his fellow wrestlers would speak openly about how Strauss would shower with the athletes, and how other athletes would comment on how Strauss would always "check for hernias," a reference to Strauss examining their genitals.
Jordan, who is now an Ohio congressman, has said he will cooperate with investigators. He served as the assistant wrestling coach from 1987-1995.
The former wrestler said Strauss was always "first man in, last man out" of the shower and Hellickson and Jordan knew because they too were in the shower area at the same time.
"They knew he was in the showers," he said, adding that they may not have known the extent of the allegations that are now surfacing in the media.
"I don't think that we look at this kind of thing with the same lens as sex abuse today ... at least not to that degree."
Several accusers have come forward saying they were sexually assaulted by Strauss under the guise of medical examination.
On Monday,
OSU investigating claims
Strauss died in 2005. The allegations surrounding him have prompted an investigation by Ohio State University, which has hired a law firm, Perkins Coie, to look into the claims made by former male athletes.
"Our family was shocked and saddened to hear the allegations of misconduct against the late Dr. Richard H. Strauss," said his family in a statement Sunday. "We learned of these allegations from public news reports. Members of our family have been in contact with the investigation team at Perkins Coie. Along with the alleged victims, our family seeks the truth and is fully cooperating with The Ohio State University's independent investigation."