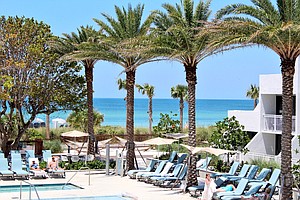 Things are sizzling in Longboat Key, Florida and it is not due to the sunny summer weather. Zota Beach Resort is heating up the powder soft beaches and turquoise waters of Longboat Key and bringing a Miami flare to the Gulf Coast as Florida's latest beachfront luxury boutique resort property. With its all white contemporary design, this alluring 187-room resort features immense accommodations including a sun-soaked infinity edged pool, an ultra-chic restaurant with gorgeous views of the Gulf of Mexico and even a wine bar, which boasts an ambitious menu. Zota Beach Resort invites its guests to sit back, relax and take in the beach vibes from any of their various rooms and suites all offering balconies or ground level patios bringing a coastal breeze right to your doorstep. Whether you are seeking to lounge on the beach with a cocktail in hand or relax in Zota Beach Resort's luxury suites, guests will be able to sunbathe to their heart's content.
About Zota Beach Resort
Located on one of the sunshine state's most prestigious beaches, Longboat Key offers a moderate tropical climate throughout the year to compliment Zota Beach Resort's contemporary design from the vision of Leo A Daly. Upon arrival, guests are greeted by a seamlessly flowing, reflective pond winding its way through the interior and exterior of the lobby while views of the Gulf of Mexico are visible through floor-to-ceiling windows. Somewhat similar to that of a castle surrounded by a moat, it is calming and stunning at the same time.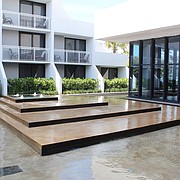 Since Native Americans, who originally inhabited the area, used longboats to navigate Longboat Key, authentic architectural elements of wood can be seen throughout the resort. If you are checking in for an extended anniversary get-a-way or short filled weekend, the resort presents a peaceful presence of nature's water and wood elements that surely adds a special touch.
Time to Relax
Once you are checked in and open the door to your home away from home, you will find that your room offers more than enough space to live comfortably during your stay. An added plus for me was the fact that Zota Beach Resort is not a huge complex. Everything is close, not requiring much walking. The pool and all amenities were that of a first-class resort experience.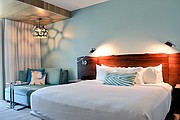 Described as "fresh, tranquil and inviting," the guest rooms and suites at Zota Beach Resort reflect the laidback elegance of Florida's Gulf Coast. Offering three choices of views, resort, pool and beachfront, the stylish accommodations are suited to perfection. Ideal for family vacations and special occasions, the 30 suites boast a separate bedroom and living room with a sleeper sofa, refrigerator, and coffee maker. Select suites offer
additional luxuries including oversized balconies, writing desks, full kitchens and dining areas.
Bon Appétit
Led by Executive Chef Jeremy White, Viento Kitchen & Bar is located on the second floor of the Zota Beach Resort. The open-air lounge sets the atmosphere for one of the refreshing cocktails (I highly recommend the Key lime Martini) while the dramatic floating wine wall offers an impressive wine selection. Open for breakfast, lunch, and dinner, the culinary concept has a combined culinary influence of Florida, Caribbean and Mediterranean flavors.