5 things for July 3: NATO, Thailand cave rescue, Amy Coney Barrett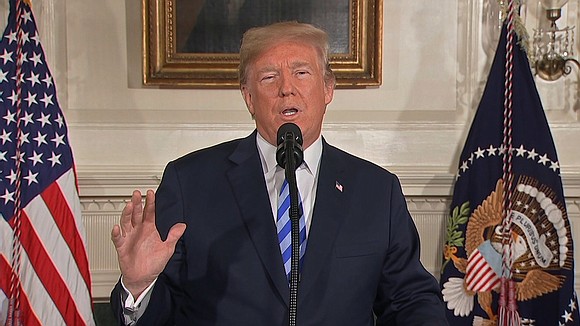 By Doug Criss, CNN
(CNN) -- Think you're washing your hands properly? Think again. The Department of Agriculture says you're probably doing it all wrong. Here's what else you need to know to Get Up to Speed and Out the Door.
1. NATO
President Trump has rattled traditional US allies again, this time in the form of letters sent to leaders of NATO nations. The letters, first reported on by The New York Times, were delivered last month to the leaders of Germany, Belgium, Norway and Canada, among others, and demanded they increase their defense spending. Trump threatened to alter America's global military presence if they didn't. The President is going to a NATO summit meeting next week in Brussels, so yeah, it'll be awkward.
2. Thailand cave rescue
A wave of relief swept around the world after word got out that the 12 boys and their soccer coach trapped in a cave in Thailand had been found alive. The group has been trapped in a flooded cave in the Tham Luang Nang Non cave system in northern Thailand for more than a week. But that rush of excitement has now turned to trepidation. It will not be easy getting them out. The only way out is flooded and attempts to pump water out of the cave have failed. So rescuers are considering teaching the boys how to scuba dive in order to save them. This entire rescue operation might take awhile. How long? Officials plan to supply the group with four months' worth of food.
3. Supreme Court
The White House is in full-blown Supreme Court mode, as it prepares for the announcement of President Trump's Supreme Court pick next week. Trump said he's already interviewed four candidates. Reports are that he's intrigued by the prospect of picking the first truly conservative female justice (Sandra Day O'Connor ultimately disappointed many conservatives). That may mean that federal judge Amy Coney Barrett is Trump's dream candidate. CNN's Chris Cillizza says for a President who considers image to be everything, Coney Barrett -- a woman, a mother, a reliable conservative -- comes straight out of Central Casting.
4. Germany
German Chancellor Angela Merkel reached an agreement on how to deal with migrants in her country which also keeps her coalition government from unraveling. Merkel agreed to set up transit centers to return migrants to countries where they've already registered for asylum. It's a big concession for Merkel, who had stuck with a policy of welcoming migrants to Germany, despite the political pushback she's gotten from the country's right-wing. But the pressure has been mounting and reached a criticial point when the country's interior minister threatened to quit over Merkel's migration policies. That would have likely left Merkel's political coalition in shambles.
5. Portland State protests
Students at Portland State University are protesting having armed police on campus after a man trying to break up a fight was shot and killed by officers. Jason Washington was trying to stop the fight outside of a sports bar late last week when a gun fell out of his holster. When he reached for it, officers shot him. Protesters demonstrated over the weekend at the Oregon school, which has only had armed campus officers for a couple of years. The officers involved in the shooting are on paid administrative leave.