Who is Mexico's Andres Manuel Lopez Obrador?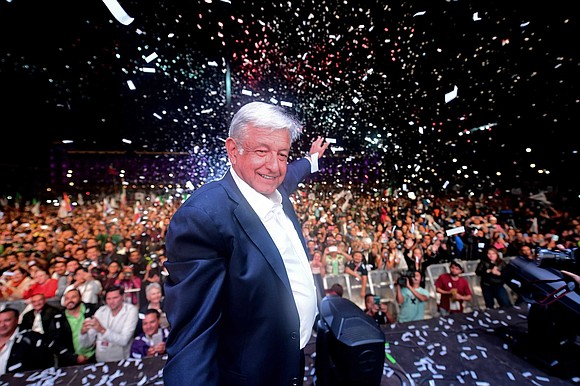 By Susannah Cullinane, CNN
(CNN) -- An anti-establishment, long-shot candidate whom experts say ran a nearly "flawless" campaign but whose critics fear might rule like Venezuela's authoritarian leader, Hugo Chavez, will become Mexico's next president.
Andres Manuel Lopez Obrador claimed victory in a speech late Sunday, telling supporters gathered in Mexico City that the primary mission of his government will be to eradicate corruption from the country.
"Corruption is not a cultural phenomenon but it is the result of a political regime in decay. We are absolutely certain that this evil is the principal cause of social inequality and of economic inequality," he said. "Because of corruption, violence has erupted in our country."
It's not the first time Lopez Obrador, known by his initials AMLO, has run for president. Indeed, after failed bids in 2006 and 2012, he rejected the results, claiming fraud.
But the third time proved the charm, buoyed in part by Mexico's alarming murder rate and the candidate's promise to take on the country's entrenched political class by cleaning house.
So who is Andres Manuel Lopez Obrador and what does his presidency have in store for Mexico, and its neighbor to the north?
'Power mafia'
Lopez Obrador ran on a populist platform to break what he described as the grip that elites -- or the "power mafia" -- have on Mexican society.
He said he would lower the salaries of top officials and give those at the bottom a pay raise. He promised to sell the presidential planes, turn the presidential palace into a public park and cut his own salary in half.
A former mayor of Mexico City, Lopez Obrador began his political career as a member of the ruling Institutional Revolutionary Party (PRI). He later joined the Party of the Democratic Revolution and more recently formed his own party, the National Regeneration Movement -- known by its Spanish acronym as MORENA.
Despite his long political resume, many observers considered the 64-year-old candidate an outsider and his anti-establishment stance has garnered comparisons to US President Donald Trump.
However, Duncan Wood, the director of the Wilson Center's Mexico Institute, told CNN's Rafael Romo that while Trump is an anti-politician, Lopez Obrador is a lifelong, professional politician.
"I think that's the single most important thing to say about AMLO versus Trump. But they do share certain characteristics. In terms of economic policy, both Donald Trump and Andrés Manuel (Lopez Obrador) are economic nationalists."
Wood said that Lopez Obrador had run a "nearly flawless campaign."
"He's hit all the right notes with the Mexican people," Wood told Romo.
"He doesn't want to be the President who kowtows to President Trump. He doesn't want to be the President who sells out national pride. He wants to be a president who stands up to the United States. He wants to be a President who says, 'We deserve and we demand respect,'" he said.
The new President will have to contend with Trump's threats to pull out of the North American Free Trade Agreement and his calls for the construction of a border wall between the two countries, among other divisive talking points.