Mexico's next president is the perfect foil to Trump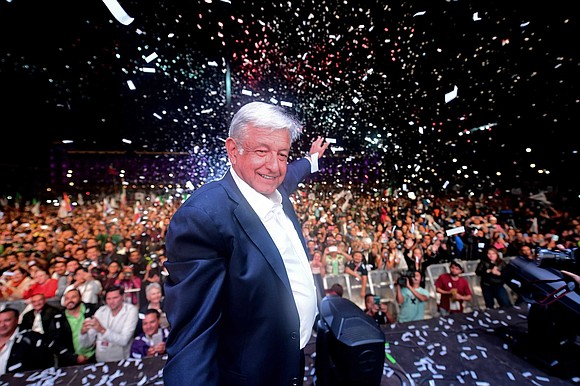 By Alice Driver
(CNN) -- "If Trump sends out an offensive tweet, I will take charge and answer him," said incoming Mexican President Andres Manuel Lopez Obrador, known as "AMLO," at a campaign rally in Oaxaca. Lopez Obrador, who founded the National Regeneration Movement (MORENA), follows in the populist tradition, and vowed to fight fire with fire when it comes to Trump.
This worries some Mexicans, who see Lopez Obrador as unpredictable, prone to outbursts of emotion and quick to change his mind on issues. Sound familiar? As president, he may well be, at least in terms of temperament, the Trump of south of the border.
Lopez Obrador, who has run for president in every election since 2006, has humble beginnings, flies coach class and says that he will convert Mexico's presidential palace into a public park.
While his political plans don't have much of anything in common with Trump's, his response to critics and the media does, as well as his lack of commitment to LGBTQI and women's rights. Lopez Obrador has said that as president, he will have to consult with the millions of Catholics, evangelicals and "free thinkers" who he represents to make decisions about same-sex marriage and abortion. In response to him, activists in the LGBTQI community in Mexico said that basic human rights should not be consulted -- they should be guaranteed.
And in his 461-page plan for governing the country, LGBTQI rights are not mentioned at all, while gender equality is only mentioned once, according to a BuzzFeed News review of the document. Notably, when Lopez Obrador was mayor of Mexico City from 2000-2005, he did not promote same-sex marriage or the decriminalization of abortion.
But the similarities between the two leaders don't stop there. Like Trump, Lopez Obrador has surrounded himself with people who have a proven track record of ethically questionable behavior. For example, he made an alliance with Elba Esther Gordillo, the former leader of Mexico's teachers union, who was accused of embezzling more than $200 million and was known for her investment in a designer wardrobe, plastic surgery and a private jet. (Gordillo has not been convicted of any crimes and denies any wrongdoing.)
If you wonder why Lopez Obrador is so popular, then, consider who his opponents were. The Institutional Revolutionary Party, to which President Enrique Peña Nieto belongs, was plagued by continued failings in the investigation of the forced disappearance of 43 students, as John Oliver so succinctly summarized in his recent segment on the Mexican elections. As Amnesty International reported, officials obtained confessions via torture in the case of these students.
And there then was the issue of corruption. In 2014, Aristegui Noticias broke the story of the President's family owning a luxurious residence registered in the name of a construction company that won contracts during the Peña Nieto administration, which led to a public scandal over conflict of interest. Peña Nieto apologized publicly for the conflict of interest scandal, while simultaneously unveiling legislation to curb political corruption -- but for many Mexicans, the damage was already done.