The slow-motion disaster of Trump's Khashoggi strategy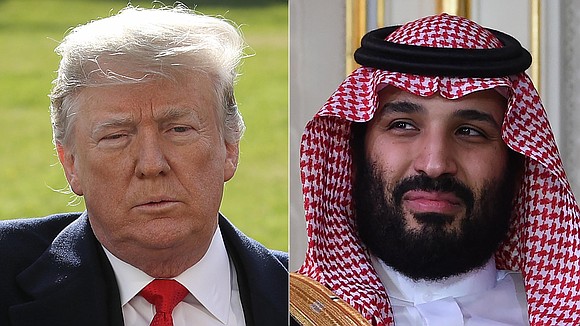 By Zachary Cohen and Phil Mattingly, CNN
(CNN) -- Shortly before 1 p.m. on Tuesday, having just received a classified briefing from the director of the CIA in the basement of the Capitol, two Republican senators stepped to a crowd of cameras and reporters. With a few pointed words, the pair blew up the Trump administration's efforts to minimize the political damage stemming from journalist Jamal Khashoggi's murder.
"There's not a smoking gun, there's a smoking saw," Sen. Lindsey Graham said, referencing allegations that Saudi operatives dismembered Khashoggi's body after killing him in October inside the Saudi embassy in Turkey.
The South Carolina Republican took aim at the White House's insistence that U.S. intelligence agencies had no direct evidence linking the murder to Saudi Arabia's powerful Crown Prince Mohammed bin Salman, known as MBS, even though it was carried out by members of his inner circle. "You have to be willfully blind not to come to the conclusion that this was orchestrated and organized by people under the command of MBS."
Nearby, Republican Sen. Bob Corker told reporters there was "zero question in my mind" that MBS was behind the killing. "If he was in front of a jury," said the Tennessee Republican, "he would be convicted in 30 minutes, guilty."
From the early leaks of its gruesome details to President Donald Trump's muted responses to Tuesday's full-throated rebuke from Republican senators, the Khashoggi murder has been an exercise in political mismanagement and discord. What could have been an opportunity to craft a unified American response has devolved into a political standoff, laying bare divisions among the White House, the intelligence community and Congress.
For weeks the Trump administration has tried to separate the crown prince from the horrific murder. It's also sought to frame the broader issue as a binary choice of either getting in line with its defense of Saudi Arabia or taking the risk of cutting off relations with one of America's closest partners in the Middle East. Even for national security hawks like Lindsey Graham, who is among the President's closest allies in Congress and is himself a long-time supporter of Saudi Arabia, that has been a bridge too far.
The Khashoggi murder has also worsened the tension between the White House and Congress over America's support for Saudi Arabia's war in Yemen, which has turned into a full-blown humanitarian crisis, forcing an administration pushing for a cessation in the conflict -- and deeply opposed to congressional meddling on the issue -- onto its heels.
Interviews with more than a dozen U.S. lawmakers and intelligence officials reveal a deep frustration and anger over what many describe as the administration's bungled response, at home and abroad, to a searing murder that raises questions over the nature of America's alliance with the Saudis and US claims of moral leadership in the world.
Last week, in an attempt to contain the growing outrage, the White House dispatched its two most prominent Cabinet officials to Capitol Hill. But the visit by Secretary of State Mike Pompeo and Secretary of Defense Jim Mattis appeared to do more harm than good.