Kelli Ward said McCain announcement about ending treatment was timed to hurt her campaign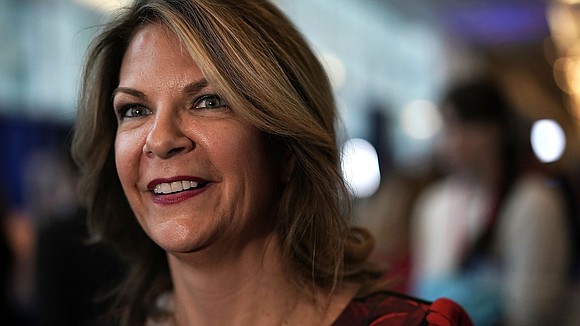 McSally, the Republican establishment's preference in the race, has mostly remained silent on McCain during the primary.
But McSally's omission of McCain's name when touting her support for the National Defense Authorization Act, which was named in McCain's honor, when McSally joined Trump at a signing ceremony at Fort Drum in New York, angered McCain's daughter Meghan McCain.
McSally's "inability to even mention my father's name when discussing the bill named in his honor is disgraceful (just as it was with Trump)," Meghan McCain tweeted. "I had such higher hopes for the next generation of leadership in my home state."
Throughout the campaign, McSally has sought to avoid any distance between herself and Trump.
On Thursday, McSally sought to dodge last-minute controversy that could undercut her primary campaign, repeatedly avoiding reporters' questions about whether she considers Trump honest and trustworthy. The questions came after Trump attorney Michael Cohen's guilty plea and claim that Trump knew about hush payments to alleged mistresses during the 2016 campaign. McSally refused to address Trump, saying only that Cohen was "all over the map, contradicting himself, lying in order to save his ass."
After McCain's passing, McSally tweeted, "John McCain was one of Arizona's greatest Senators, one of our country's finest statesmen, and an American hero who risked his life to defend this great nation. He loved this state, and he loved this country.
"I pray that God comforts Cindy and the entire McCain family. My heart is with them, and Arizona grieves with them."
Arpaio, who was pardoned by Trump last year after being convicted of criminal contempt related to his hardline immigration tactics, complained in a since-deleted tweet on Friday that Cindy McCain had blocked him on Twitter.
"I tweeted out my thoughts & prayers for" McCain, his campaign account tweeted, and Cindy "BLOCKS me on twitter?"
Arpaio tagged Trump and several news outlets in the tweet.