What authorities found inside the New Mexico compound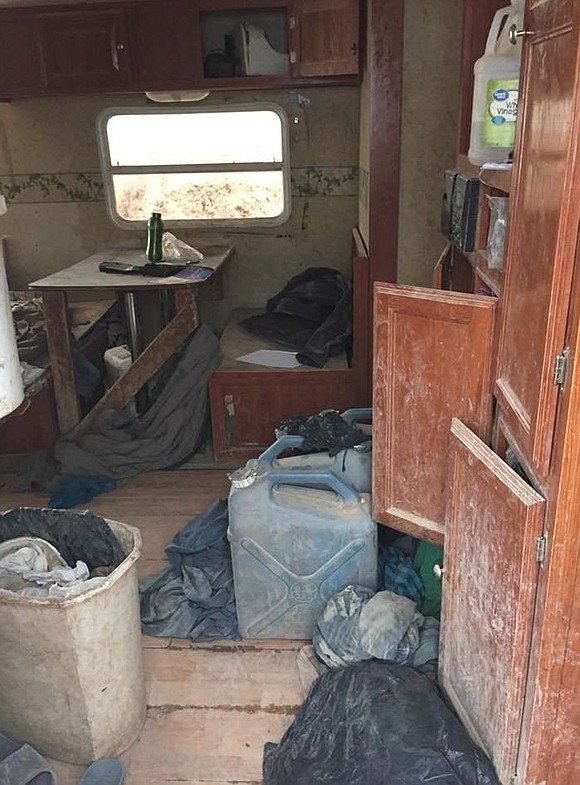 By Madison Park and Hollie Silverman, CNN
(CNN) -- Stacks of tires, piles of trash and plastic sheets surrounded the squalid New Mexico compound, shrouding what was happening inside: five adults, including a fugitive wanted in the disappearance of his young son, living with 11 emaciated children.
The compound -- including a partially buried camper trailer -- was littered with hazards and lacked electricity, sewage disposal and plumbing. The place was teeming with trash and odor, and the children were wearing rags, had no shoes and likely hadn't eaten in days.
These are a sheriff's descriptions of a property that officers raided last week in rural Amalia, New Mexico, according to court documents, in what started as an investigation into a man's alleged abduction of his son, then 3, in Georgia last year.
That man was one of the five adults arrested at the compound Friday, and the 11 children were put into protective custody -- but it's unclear what happened to the missing Georgia boy, Abdul-Ghani Wahhaj. Investigators found remains of a young boy in the inner portion of the compound Monday, but no identification has been made yet, said Taos County Sheriff Jerry Hogrefe.
The shelter was covered by plastic, the sheriff's office said. And it was "surrounded in part with an earthen berm and old tires stacked up around it," Hogrefe wrote in an affidavit filed Monday.
The property also has "open trenches and pits, with numerous trip hazards and wood with nails sticking up and broken glass and bottles litter around the grounds," Hogrefe wrote.
The cluttered compound had loaded firearms easily within the children's reach, and the group had been there for at least two months, the sheriff said.
Hogrefe described the children looking like "Third-World country refugees" with no food, fresh water or shoes and "basically dirty rags" for clothing.
Also on the property was a small utility truck, inside which several children appeared to have slept on makeshift beds, Deputy District Attorney Timothy Hasson wrote in a court filing that asked a judge to hold the defendants without bond.
There was no running water and authorities found two kitchen pots "outside apparently catching rain water," Hasson wrote.
Authorities found several other items, including a brown box with yellow salt, a gold phone, a black rifle case, ammunition, a white tarp, a passport and Georgia ID with Siraj Wahhaj's names and a black camcorder, according to an arrest warrant.
Property had a shooting range and 'escape tunnel'
Deputies said the ramshackle dwelling seemed to be "built underground," including the partially buried camper trailer, Hogrefe wrote in a separate affidavit for a search warrant last week.
Also on the 10-acre parcel, investigators spotted what "appears to be a shooting range along the west side of the property," according to the affidavit. Nearby residents told deputies they had regularly heard gunfire from the property.
When one of the suspects, Siraj Wahhaj, was arrested Friday, he was armed with an AR-15 rifle, four loaded pistols and five loaded 30-round magazines, the sheriff's office said.