Let's Go Camping: Houston Texans Training Camp 2018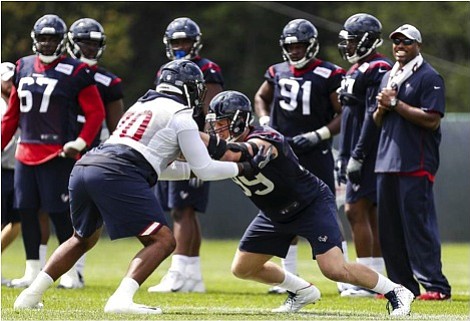 As I walked down the aisles of the grocery store this afternoon, I could see a difference in the normal attire of the customers. I had become accustomed to seeing people aka fans wearing Houston Astros World Championships shirts up and down aisles. But today my eyes had to do some adjusting to something I had not seen in a while. It had me dazed and confused for a second as the stream of orange and blue had more hues of red in it. As my eyes focus clearly I realized why there was now an abundance of Houston Texans jerseys being worn by fans throughout the store.
It hit me like a ton of bricks. The NFL is back!
The Houston Texans officially opened training camp in West Virginia and no one is more excited to put last year's injury riddled season behind them than Head Coach Bill O' Brien.
"I think we have confidence. We don't think about last year. Last year's over. We're really just focused on today, tomorrow. This team's hungry. This team's a confident team. This team just needs to continue to put the work in and try to get better each and every day. We're a team that I think has good chemistry. We just need to come out every day and put a good day of work in, and that's what they did today," said O'Brien when asked to describe the team's mindset headed into camp.
All the Texans fans in West Virginia got a chance to see something they had not seen in a very long time. Two key members of the franchise took to the field ready to prove to the fans and the rest of the NFL that they were back after suffering season-ending injuries. DE J.J. Watt and QB Deshaun Watson participated in all the drills and shook off some off the rust from not being on the field in a while.

Watt was very excited to be back on the field and it showed. "It was great. It felt great to be back out there. The first day, the biggest thing is you want to test out is your lungs, test out your legs, make sure you're fresh, make sure you're in shape. I mean, that's the biggest thing for me today, and I felt really good out there. It's Day 1. You're not going to get any crazy proclamations or insight out there, but just to be back with the guys – I mean, that's the biggest thing you miss during your time off is being in the locker room, being on the field, messing around with the guys on the sideline. That's the most fun," exclaimed Watt.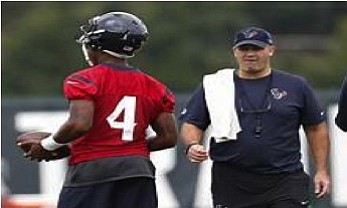 One individual who was happy to get back to work after a dismal season was veteran defensive back Jonathan Joseph who is entering into his 8th training camp with Texans. "Just being around this team, being around the guys in this locker room. Just that feeling. It's a brotherhood. A lot of these guys I've been around since they've been rookies, a lot of new guys that I've met over these past couple months," Joseph responded when asked what motivates him about training camp.
The Texans will take on the Kansas City Chiefs on August 9, 2018, in their first preseason game.