EPA chief Scott Pruitt's long list of controversies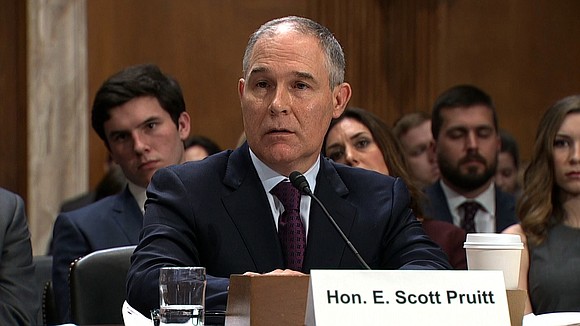 By Clare Foran and Eli Watkins, CNN
(CNN) -- This story originally published on April 6, 2018, and has been updated with more developments.
A steady stream of negative headlines involving Environmental Protection Agency Administrator Scott Pruitt in recent weeks and months has official Washington wondering whether the embattled agency chief can hold onto his job.
During his time at EPA, Pruitt has worked to carry out key elements of President Donald Trump's agenda, overseeing a rollback of Obama-era environmental regulations. But he has also been caught up in a series of unfolding controversies over everything from first-class travel, security expenses, and a decision to rent a room in Washington, DC, tied to an energy lobbyist.
When Pruitt took up his post at EPA, he was already a controversial figure. As Oklahoma attorney general, he sued the agency he now leads over environmental regulations and suggested that the debate over global warming is "far from settled."
Here's a look at the lengthy list of controversies and allegations that Pruitt has become embroiled in during his time at the administration:
• The $43,000 the EPA spent to purchase and install a soundproof booth in Pruitt's office violated federal spending law, according to the Government Accountability Office. The EPA was required to notify Congress before spending more than $5,000 on office improvements, GAO found, although EPA disputed that requirement applies to the privacy booth.
• The EPA chief of staff, Ryan Jackson, signed on Pruitt's behalf the authorization of large raises to two close aides, internal documents show. Pruitt has maintained -- including in a Fox interview -- he was unaware of the raises and planned to reverse them, although the agency's Inspector General found no evidence the raises have been rescinded. The Atlantic has reported that Pruitt defied the White House to grant the raises.
• The EPA Inspector General is probing Pruitt's travel practices. The review began following reports Pruitt would frequently travel home to Oklahoma on the taxpayers' dime. The IG twice expanded the probe, first as the agency acknowledged Pruitt used both a private plane and military jet to travel four times instead of flying commercial -- at a price of $60,000 -- and again to include all of Pruitt's travel from 2017.
• Multiple senior EPA officials, including a career official and political appointees, were sidelined or demoted after they raised concerns or pushed back on the amount of money Pruitt has spent as EPA chief on expenses such as travel as well as his management of the agency, two sources confirmed to CNN.
An EPA spokesman has disputed the claims, calling the employees in question "disgruntled."
• Pruitt lived for about six months in a Capitol Hill condo owned by a health care lobbyist whose husband has lobbied the EPA and payed below the market rate, according to reports by ABC News and Bloomberg. A former deputy chief of staff told congressional investigators the energy lobbyist, J. Steven Hart, called Pruitt's chief of staff to complain that Pruitt was behind on rent, and a separate source told CNN the couple eventually evicted Pruitt by changing the condo lock code.