Masters 2018: Firefighter Matt Parziale to tackle Augusta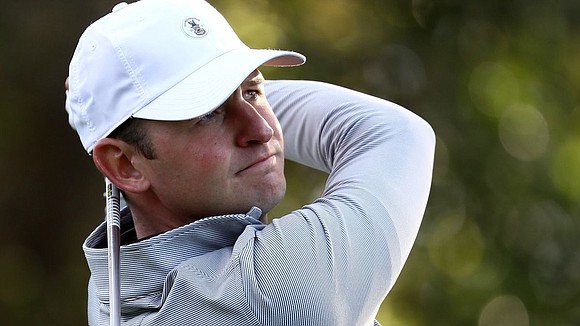 By Matias Grez, CNN
(CNN) -- He qualified for the Masters, but firefighter Matt Parziale was more concerned about getting back for work the next day.
After winning last year's US Mid-Amateur tournament to book his slot at Augusta, Parziale became stuck in traffic and missed his early flight back to Boston.
"(We) got pushed back to about 10 o'clock flight," Parziale told CNN's Don Riddell at Augusta Tuesday.
"That got delayed. I think we landed in Boston around 1:00, 1:30 and got home around 2:00.
"Then I was at work at 7:00. So it was a quick turnaround."
The annual US Mid-Amateur tournament -- open to any golfer aged 25 and over who can boast a USGA handicap of 3.4 or lower -- provides the winner entry to both that year's Masters and US Open.
Of the six amateurs who will compete at this year's Masters, five are juniors ages between 17 and 22. The sixth is 30-year-old Parziale, who works in his home town of Brockton.
Like many of the other amateurs at Augusta, Parziale had aspirations of making it as a professional golfer. He played on the mini-tours for three years but a lack financial resources meant he had to hand in his professional license and return to amateur status.
"I didn't have much success," Parziale said. "I enjoyed it though because I was playing at a high level. I didn't really have many times where I thought I was playing that bad.
"But I wasn't making any money. So, yeah, it was just a decision I made, and it was I never regretted it."
Parziale is adamant, however, that his appearance at Augusta this week is not his "second chance."
"I don't look at it as a second chance, I look at it as I just never stopped trying to compete at the highest level," he says. "And that will never stop.
"I don't know what it will lead to but that's something that will never change. It kind of keeps me going, playing competitive golf and trying to get better every day."
READ: How Gary Player helped take the Masters global
READ: Fan favorite Phil Mickelson still pushing for grand slam glory
Golfing roots
It was his father, Vic, that Parziale got into both golf and firefighting.
As a five-year-old, Parziale would go with both his father and his grandfather to the fairground in Brockton, about a 40-minute drive south of Boston, to hit golf balls.
It was only another three or so years before he would go on to play competitive golf on courses in the area.
The first Masters that Parziale can remember watching was in 1997 as a nine-year-old, when a certain Tiger Woods won his first green jacket at Augusta.
"Being able to watch him the next 10 years as I was growing into the game just got me into the competitive mode and he was so fun to watch," Parziale recalls.