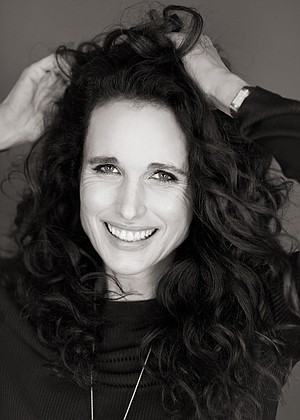 Allison Kugel: I watched your interview on Off Camera with Sam Jones and you were talking about being sick and tired of women being objectified on film, but there is a difference in how nudity is presented in Love After Love.
Andie MacDowell: Nudity in this film feels human, and similar in the way men's and women's nude bodies are depicted. The forms and the shapes and how we were laying on the bed. It's shown as being real and a part of life.
Allison Kugel: You can see your humanity in the way it was filmed.
Andie MacDowell: And that's the difference. It wasn't how women are usually seen. I think women have quite often been used in movies as an object for men. And, you know what, there's a lot of naked men in this movie. It's part of the story, and the way it's presented, you don't even think about it in that way.
Allison Kugel: You've said that you were starving for this type of a role. Beyond the need to no longer be typecast, did playing Suzanne in Love After Love allow you to work out events and emotions from your own life? Was it therapeutic for you?
Andie MacDowell: I have such a well and a huge depth of life experience that I haven't had the opportunity to use on film. I saw so much that I could do with this character. She has all these different parts of herself. She has this lusty confidence; she's a self-assured woman that's not ashamed that she had an open marriage. And then she crumbles. But she is heroic in taking care of her husband, and then devastated at losing him and you then see her destroyed. And then she is trying to start over, and she has that humbling experience of having sex with the person she works with. In the scene where she loses it on the young actress, I really wanted to play that part of things, the ability to be cruel because you're in pain. We do that as mature women. We're fed up as mature women and we lash out sometimes. It's a true moment in the film.
Allison Kugel: Do you feel a sense of relief that the kinds of roles you're getting to play now are more character-driven, as opposed to the young female lead that you played in the nineties?
Andie MacDowell: I'm thankful for all the jobs I've had, and I've gotten to do some great parts. I don't have any regrets, and I think those roles suited me at that age and time. I think as you get older, you are a character (laughs). You have a lot more depth by the time you're my age, because you've had to struggle. My life has not been a piece of cake. I understand what it is to have a complex life, because my life has been complex. By the time you're my age, you see things differently and I think you have more to offer in a way.