Houston Astros Show Their Strength and Resilience to Earn History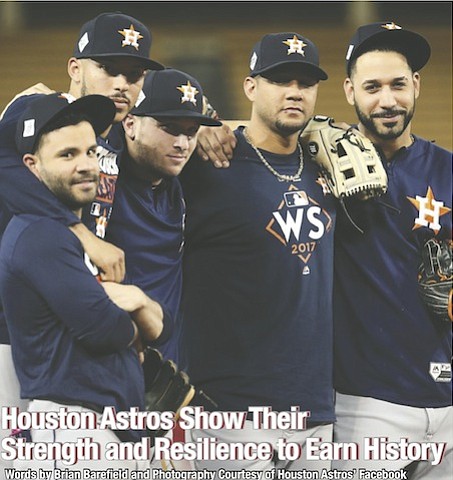 History has a funny way of repeating itself. It has been twelve years since the last category three or stronger hurricane made landfall on the United States soil. Ironically, it was also the last time the Houston Astros made it to the World Series.
Two months ago, the city of Houston and surrounding areas were hit hard with one of the worst natural disasters since October 2005. Hurricane Harvey flooded over 70% of Harris County with at least 1.5 feet of water and left an estimated 136,000 flooded structures in the county. This also affected the Astros. They were stuck on the road and couldn't get back home to check on their loved ones because the airports and roads were shut down. They even had to play in-state and division rivals, Texas Rangers in St. Petersburg, Florida as the home team. Eight days later, the Astros finally played their first game back in Minute Maid Park.
Manager A.J. Hinch gave some very heartfelt words to the people of Houston. "We want to thank everyone in the city of Houston that's doing something good for somebody else. We are all very fortunate to survive this hurricane. For those that weren't, our thoughts and prayers are with your families," said Hinch. These words were needed for a city that would feel hopeless for the weeks.
And then a funny thing happened. A glimpse of hope was given to a city that is still recovering from over a trillion dollars worth of damage caused by the hurricane. The Houston Astros rallied from a 3-2 deficit to defeat the New York Yankees in game 7 of the American League Championship Series to win its first ever American League Pennant since switching leagues in 2013. That victory sent the Astros back to the World Series for the first time since 2005 and the second time in the franchise history. Soon after they learned they would go head-to-head for a World Series win equally strong competitors the Los Angeles Dodgers.
Facing a loaded team like the Los Angeles Dodgers will not be an easy task for the hometown Astros. They had over 100 wins this season and have one of the best pitchers to play this decade in left-handed pitcher Clayton Kershaw. In 27 starts this season, he has 18 wins and 4 losses, to go along with over 200 strikeouts. Los Angeles also has a power-hitting lineup led by talented, but very temperamental outfielder Yasiel Puig. The Dodgers are looking to break their own World Series drought. They haven't played a World Series game since 1988, the year they won it all.
A win for the Astros would be the perfect way to cap off this dream of a season. "Everybody has been pulling together and it's kind of a dream come true for this city to make it this far and have a chance to win the World Series," said Astros owner and chairman Jim Crane.
This trip to the "Fall Classic" means a lot to a team who struggled through three consecutive seasons of over 100 plus losses. Their combined record from 2011- 2013 was a horrid 163 wins – 324 losses and they did not go over .500 in the win column until 2015. This year alone they had 101 wins, which qualify for the most in franchise history.