AFC Contenders Clash: Houston Texans vs. Kansas City Chiefs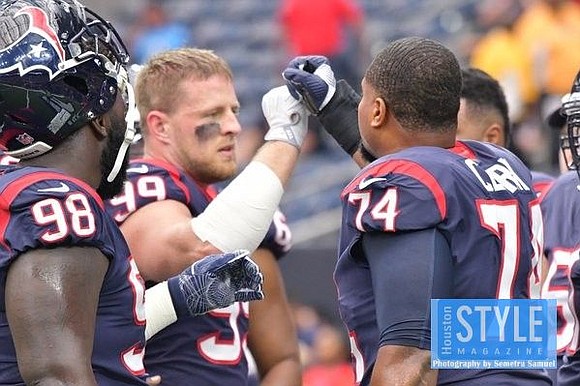 Coming into the season, the Houston Texans looked at the schedule and marked a three-game stretch of games that would give them an idea of where they stood as a team. Reigning Super Bowl Champions New England Patriots, strong divisional foe Tennessee Titans, and the team predicted to give New England competition atop of the AFC, Kansas City Chiefs, were the teams Houston looked forward to playing.
As they approach the final game of that three-game stretch against the Chiefs, they are starting to look like the contenders some NFL analysts predicted them to be in during the pre-season.
After losing a heartbreaker to NE (36-33), the Texans returned home on last Sunday and gave one of the strongest offensive performances in franchise history (445 yards of total offense) against the Titans. By putting up 57 points in the game, Houston put the rest of the NFL on high alert that they are serious about being one of the top teams in the league.
And now the final test will be against the undefeated Kansas City Chiefs (4-0) in a nationally televised game on October 8th on NBC's Sunday Night Kickoff. Kansas City comes into Houston touting one of the most efficient offenses led by QB Alex Smith. Through the first four games of the season, he has completed 92 of his 121 pass attempts for 1,067 yards with eight touchdowns and no interceptions. "This will be a big challenge for us. Got to be smart and pick your spots but like I said, these guys present a lot of problems on every level," said Smith when asked what he expected against the Texans.
Kansas City has found yet another offensive weapon in 2017 rushing yard leader, RB Kareem Hunt. The rookie out of Toledo has 502 yards rushing this season.
The Texans have scored a combined 90 points over the last two weeks against formidable opponents in NE and Tennessee. And they have done it with their own offensive juggernaut in rookie QB Deshaun Watson. In three career starts, he has amassed 709 yards passing, six touchdowns and three interceptions. "The biggest way I have grown is operating with the offense. On the same page with head coach Bill O'Brien and the entire coaching staff so that when we step out on the field we try and score points," said Watson when asked how much he has grown since the first game of the season.
Houston's defense will need another strong performance like last week against the Titans. In that game, they held the Titans to 195 total yards and caused five turnovers (four interceptions and one fumble recovery). Texans All-Pro DE J. J. Watt knows they have a tough task ahead of them, but feels that they are ready to compete against anyone in this league. "Anytime you are undefeated in this league, you are doing something right. So its really important for us to go out there and execute our game plan and get them off the field," said Watt.
Kickoff is Sunday @ 7:30 pm CST.