Well Deserved: Why Hopkins And Not OBJ Should Be the Highest Paid WR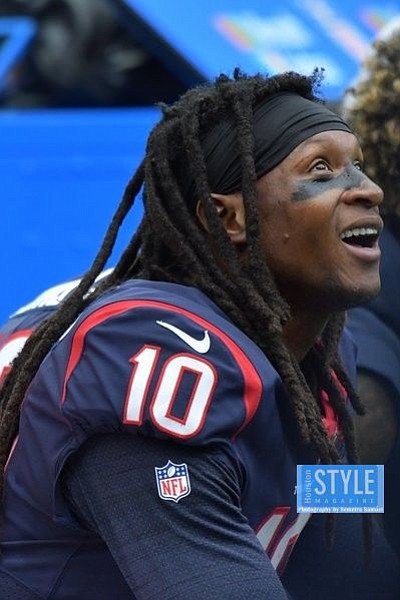 On September 1, 2017, the Houston Texans made their star WR DeAndre Hopkins the highest paid player at his position (5 yrs./$81 million - $49 million guaranteed). That exceeds the contract extension WR Antonio Brown received ($68 million/$19 million guaranteed) this offseason from the Pittsburg Steelers. Hopkins has now set the bar for others at his position to seek similar deals.
One name that comes to mind is the electrifying, high-flying, catch machine that plays in the "Big Apple." His name is Odell Beckham Jr. or just simply call him OBJ. On July 28, 2017, OBJ made a video stating he should be the highest paid WR in the league. A title the aforementioned Hopkins holds. I am here to tell Mr. Beckham that he is wrong. The title is right where it should be.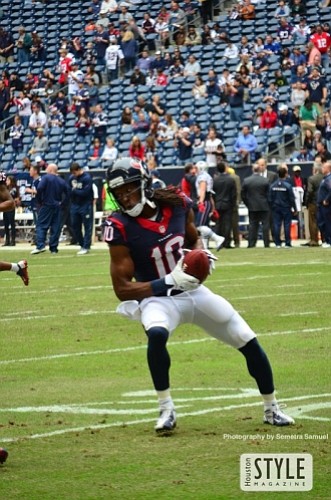 Beckham is still playing under a rookie contract that began in 2014 and will pay him $1.8 million dollars this season and $8 million next season. Is that highway robbery for a WR who has been to three straight pro bowls? Yes. Is that a very low wage for a receiver who averaged 96 catches a year to go along with the 4,122 yds. and 35 TD's since he has entered the league? Yes. Should those stats boost him into the $100 million-dollar range and put him over D. Hopkins? No.
Now I know you have a puzzled look on your face because it has been mentioned twice now that OBJ doesn't deserve to make more than Hopkins. Let me explain why so you won't be so confused.
For starters, let's look at the number of quarterbacks Hopkins has played with since entering the league: Matt Schaub, Case Kennum, Ryan Fitzpatrick, Ryan Mallett, Brian Hoyer, TJ Yates, Brandon Weeden, Brock Osweiler, Tom Savage and, we can soon add the Texans 1st round pick, Deshaun Watson. That's nine QB's in a four-year span if we are counting. Six of those are backups, one is a starter on a franchise that may win two games this season (Hoyer -SF 49ers), and the other one is fighting to keep his position (Savage-Texans).
While other great wide receivers such as Beckham (Eli Manning), Brown (Ben Roethlisberger), Julio Jones (Matt Ryan) and A.J Green (Andy Dalton) have had consistent quarterbacks their entire careers. Three of those QB's have Super Bowl starter on their resumes.
Playing with numerous quarterbacks in such an abbreviated time frame is not normal. The average WR would struggle to learn the habits of each one of those guys, but not Hopkins. His career numbers are right up there with the best of them (4,487 yds., 23 TD's). Oh, and, let's not forget that he averages less than 10 dropped passes a season. That stat alone says a lot.
Another factor on why Beckham shouldn't be the highest paid WR is because of his volatile behavior. He easily becomes agitated when things do not go his way. Something that can't be said when talking about Hopkins. He plays the game the right way.
I think that OBJ is one of the best to ever play the game at this point in his career. The Giants should pay him his money. I just don't know if they should break the bank for him just yet.
And before you debate my opinion. Ask yourself this one question. If both receivers switched teams do you think the numbers would still be the same? Before you answer, consider the one time OBJ had 4 catches for 28 yards in a playoff game. Ok, now I am just being petty.