Offensive Explosion: Houston Texans Move Into Tie for First Place By Scoring a Franchise High in Points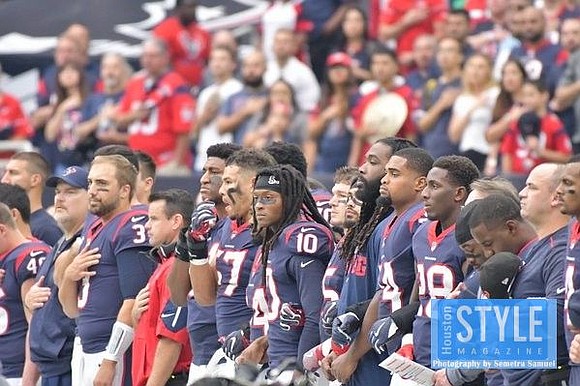 The Houston Texans ranked next to last in 2016 in the first half scoring in at 8.6 points. They scored 30 points in the first half in this past Sunday's game. They ended up winning the game in a convincing fashion, (57-14) and put the rest of the AFC South on notice that they are here to stay. This was the most points scored by the Texans in a game in franchise history (previous record was 45 against the same Titans team back in 2014).
Starting in his first home game in front of a crowd of 71, 801, newly AFC Player of the Week, QB Deshaun Watson continued where he left off last week with another strong performance going 25-34 passing attempts, 283 yards passing, 4 passing touchdowns, and one rushing touchdown. If there was any doubt why the Texans did some strong maneuvering to make him the 12th pick in the NFL draft it has quickly been put to rest.
Watson established that this would be his day by leading the Texans to scores on the five out of six possessions in the first half. "The game is played fast and I just have to make sure that I play fast along with it," said Watson. The offense seemed to move very fluently with him behind center, as he kept the Titans defense on their heels the entire game. With a strong combination of running and passing, the Texans quarterback was very aware of what his team had accomplished during the game by putting up that franchise record score.
Texans wideout DeAndre Hopkins finished with a game high of 10 receptions for 107 yards and one touchdown. That is largely due to him and his rookie quarterback being on the same page. "It was constant communication throughout the game. Even in the fourth quarter, we were going over things that will help us in the Chiefs game (Texans next opponent)," said Hopkins.
Not to be lost in translation was the wonderful job done by the Houston Texans defense. They held the high powered Titans offense to nine total first downs and yielded a grand total of 195 yards for the game. "We did a great job of making turnovers and giving the ball back to our offense on a short field. They did a great job of scoring the ball," said veteran cornerback Jonathan Joseph. "We have a lot of young guys in this locker room but today showed what we are capable of doing when we are all on the same page."
The Texans are now tied for first place in the crowded AFC South with Jacksonville Jaguars and Tennessee Titans. They have another tough opponent next week when the red-hot Kansas City Chiefs come into town. If today was any indication of what this team is capable of, it should make for one great game.