Crosby Roamann Wines Has Landed In Houston!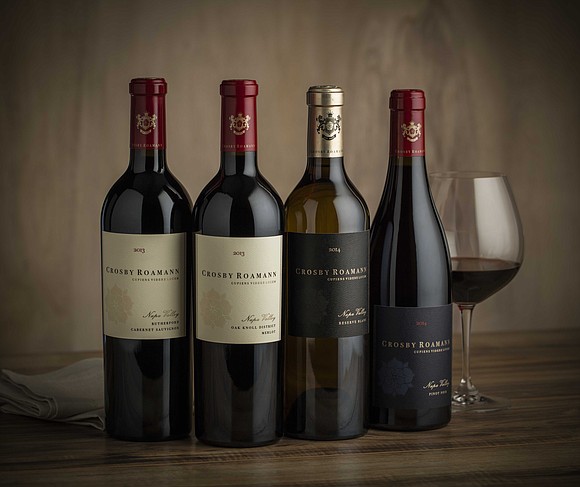 To be a novice wine connoisseur, you have to have the confidence to know at least some of the things you're tasting and sampling. Any opportunity to improve your skills (or wafting skills) is a must. So, when Crosby Roamann Wine came through Houston for a tasting of their latest in honest and handmade wines, I couldn't pass it up.
Nestled in the rolling hills of Napa Valley, Crosby Roamann is a small winery that prides themselves on creating wines that are not only truthful to the taste but to the senses as well. Winemaker Juliana A. McBride was on hand during the tasting, providing us with background information regarding the winery and more. Her confidence and attention to detail turned a simple lunch at B&B Butchers & Restaurant into a modified gathering of what felt like old friends. McBride's passion stems from an age-old belief that every vineyard is special, every vintage is unique, and each wine is distinct.
Her love of winemaking surprisingly enough formed out of a hobby she had. A decade ago, her and her husband started their first barrel and by 2010, they went commercial, beginning with sales in California and expanding elsewhere. All of Crosby Roamann wines live up to their motto: handmade with the greatest care and attention to detail.
During the course of our stay at B&B's, we were treated to four distinct wines, a 2013 Sauvignon Blanc; 2013 Chardonnay, a 2012 Merlot and a 2012 Cabernet Sauvignon. Each wine, from the striking red that made up the Cabernet to the piercing white of the Sauvignon Blanc made for an interesting decision to be made. Picking a favorite wine is similar to the best suit or even a car. Once you find a bottle that matches your mood, you stick with it.
After a few glasses of each, the customary swirls and small streaks of wine running down the various glasses, I settled on loving the reds a far bit more than the wines. Dessert wine is just that, dessert, but for those who prefer a glass after a long day, I'd suggest the Cabernet Sauvignon. Aged to perfection, it gives off an aura and smoothness that is hard to match. You could tell after finishing a glass how rich and soothing the Cabernet was, as if you'd seen the fresh picked grapes by hand that went into fermentation.
Most professional wine tasters will break down the aroma, taste identification, acidity, structure, texture, and balance of a wine. Emerging wine connoisseurs like myself and many of you? We choose by what makes us feel right. There's a bit of a stronger appreciation there. Crosby Roamann Wines' offers a varied selection, all finely crafted to deliver the best pace setter for your dinner party, a quiet nitecap or even a drink of pure celebration.