Heart and Soul: Houston Rockets Guard Patrick Beverly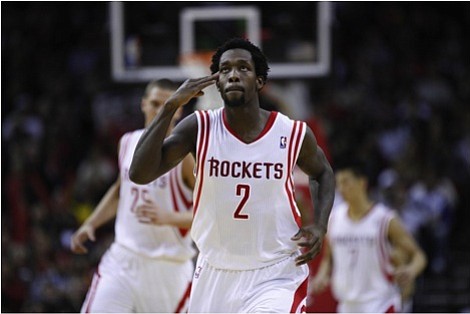 Anyone who has watched the Houston Rockets can tell who the #1 player on the court is for them, James Harden. There is no debating that when it comes to talent and leadership, Harden is the man. But there is another player on the court who displays those same qualities and could be clearly seen as #2 when it comes to leadership. Ironically, #2 is his jersey number as well. Houston Rockets' guard Patrick Beverly brings pure grit and determination as soon as he laces up his sneakers.
Beverly can be seen playing tenacious defense against the league's top guards. From 2017 potential MVP Oklahoma City Thunder guard Russell Westbrook to two-time MVP Golden State Warriors guard Steph Curry, Beverly doesn't marvel at the accolades of opposing players. They are all the same to him on the court - the enemy.

As the Rockets prepare for game 2 of the Western Conference semi-finals against their in state rivals the San Antonio Spurs, a team they surprised by beating by 27 points in game one. Beverly is ready to go and will find himself once again holding a future Hall of Famer in Tony Parker. This sounds like a tough task, but not to the tough defender from Chicago, Illinois. He prides himself on playing defense, which in turn leads to easy baskets. The Rockets offense is as potent as they come in the NBA this year. Houston was second in the league in scoring. Only trailing the GS Warriors by .6 points a game (GS – 115.9 – HOU – 115.3). But they were first in three pointers made this season with 1181, which included Beverly shooting almost 40% from the arc.
Most people forget that Beverly was a four-star recruit at Marshall High School in Chicago and was listed as the #10 guard at his position and #65 in the nation in the 2006 class. He also led the University of Arkansas in scoring (13.9 ppg), three-point percentage (.386), and steals (1.7) his freshman year. So, it isn't that he can't play offense. He just loves to frustrate opposing players by stopping them from being effective.
The 6'1 point guard whose career path to the NBA has been chronicled by numerous media outlets (played 5 years overseas) credits that time with making him the player he is. Beverly said he watched and admired another ferocious defender who he patterns his defensive prowess after, Kevin Garnett.
In 2014, the league finally recognized Patrick when he secured a spot on the NBA second team all-defensive team. All the work had finally paid off and the teams around the league knew that Beverly would be putting the clamps on any guard that stepped into the Toyota Center in Houston. If the Rockets advance to the Western Conference Finals, he will possibly come face to face with the aforementioned Curry again. And if they happened to survive that series his will and defense will be tested again by two guards out of the East in I. Thomas of the Boston Celtics or K. Irving of the Cleveland Cavaliers. Both who are high powered offensive players that could turn any game around with a series of plays. But for some reason, I don't think any of that scares the Rockets guard and they probably welcome the challenge. As a matter of fact, I know he does.