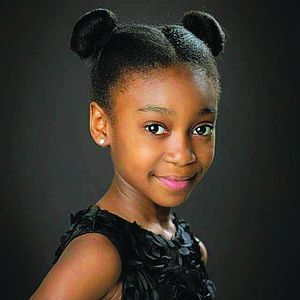 Shahadi Wright Joseph an 11-year-old Broadway singer, dancer and actress is the next child star to watch! The Brooklyn, New York Native is already making monumental milestones by becoming the youngest actor to play Nala in Disney's Broadway production, The Lion King. Shahadi spends a lot of her time traveling back and forth from Los Angeles to New York, where she is based. You may  remember seeing Shahadi's major television appearance on NBC's Hairspray Live, which aired early December on the NBC network. The young super star played Little Inez alongside Ariana Grande, Oscar-award winning actress Jennifer Hudson and company. 
Shahadi is on the move. She has performed with the Voices of Trey Concert Choir and hit the stages of Broadway in 2015 with the cast of School of Rock in the roll of Madison and understudied the role of Tomika. During the holidays, the young and talented singer released Love For the Holiday, a collection of warm sounds for the season, which can be found on iTunes. 
Houston Style got a chance to chat with Shahadi in the midst of her travels. Check out the interview below.
Ke'Ke: What was it like playing Little Inez in NBC's Hair Spray Live?
Shahadi: Playing Lil Inez was a dream come true. While I was in the Lion King on Broadway, one of my wranglers (child guardians) said I would be great as Lil Inez and that idea just stuck with me. When the opportunity to audition came around, I was so excited to be considered and then I freaked out when I got it!
Ke'Ke: How has your experience been working alongside Jennifer Hudson, Ariana Grande & other major celebrities? 
Shahadi: At first I was overwhelmed to be working with so many famous people. But, all of the stars in Hairspray Live were so nice and supportive. They were such an amazing cast and I learned so much from watching them work everyday. Jennifer Hudson immediately felt like a loving Mom to me. She made it really easy and natural to play her daughter.
Ke'Ke: Who are some of your inspirations?
Shahadi: Since I'm a musical theater kid, most of my inspirations are Broadway actors like, Renee Elise Goldsberry (Hamilton), Lin Manuel Miranda (visionary, music and book writer of Hamilton), and pop singers like Ariana Grande.
Ke'Ke: When you are away from being an industry triple threat (singing, dancing and acting) what do you like to do? 
Shahadi: I like to knit, ride my bike, listen to music, and make slime (all smiles). 
Ke'Ke: Have you made friends with people on set you can see as good friends for life? If so, who?
Shahadi: Some of the Lion King cubs, from both Broadway and the Gazelle tour, are my best friends. I've also made great friends in SCHOOL OF ROCK, which I stay really close to. 
Ke'Ke: Did you win the nomination of Outstanding Ensemble in a Broadway Show (Astaire Awards) for the School of Rock- The Musical? What contributes to bringing the greatness out in you as a rising super star?