4 Critically Hurt as Car Strikes Marching Band at Mardi Gras Parade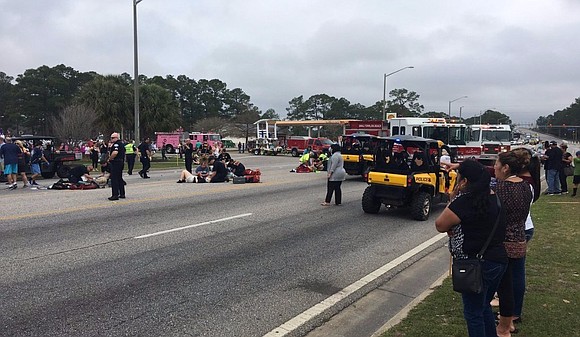 By Holly Yan and Tina Burnside
CNN
(CNN) -- Twelve Alabama students were injured Tuesday when a car plowed into a marching band during a Mardi Gras parade.
Four are in critical condition, Gulf Shores city spokesman Grant Brown said. The victims' ages range from 12 to 17.
Six are middle school students, and six are high school students, Baldwin County Public Schools said in a statement.
As the children were treated and rushed to ambulances, dented musical instruments and debris were scattered on the street.
Brown said a 73-year-old man was driving the car, which accelerated before it hit the Gulf Shores High School marching band. It was not immediately clear why the driver accelerated, but authorities do not believe the crash was intentional.
"Every indication is that it was a tragic accident by an elderly man," Gulf Shores police Chief Ed Delmore said.
Brown said there were no signs that drugs or alcohol were involved.
Several emergency agencies scrambled to the coastal community to help with what fire Battalion Chief Kevin Tolbert called a "mass trauma incident."
Tolbert said the vehicle ended up on top of some of the children.
A crisis counselor was at a local high school to comfort students and parents who witnessed the crash, said Angie Swiger, a member of the Baldwin County Board of Education.
"It's going to be a very difficult day," she said. "It is a tight-knit community. We just ask for everyone's thoughts and prayers."
CNN's Ryan Rios, AnneClaire Stapleton and Deanna Hackney contributed to this report.