Adults View Black Girls as 'less innocent,' New Report Says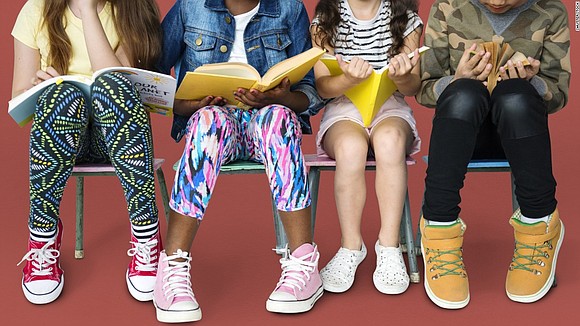 By Jacqueline Howard
CNN
(CNN) -- When compared with their white peers, young black girls are viewed less as children and more like adults, according to a new research report.
Adults in the United States tend to view black girls as "less innocent" and more grown up than white girls, according to the report, which published by Georgetown Law's Center on Poverty and Inequality on Tuesday.
Based on those findings, the research suggests that adults may perceive that black girls need less nurturing and protection than white girls, which could influence how black girls are treated in the education or juvenile justice systems.
"If our public systems, such as schools and the juvenile justice system, view black girls as older and less innocent, they may be targeted for unfair treatment in ways that effectively erase their childhood," said Rebecca Epstein, lead author of the report and executive director of the Center on Poverty and Inequality.
She added that disparities in how black girls are viewed emerge as early as age 5, when some children are still in preschool.
"Our finding that adultification begins as young as the age of 5 was particularly sobering. That means that adults may even see little girls in kindergarten differently, needing less nurturing and support than their white peers," Epstein said.
"Yet at the same time, the more general confirmation that black girls are adultified was not surprising. Scholars and researchers have observed this phenomenon for years," she said. "Many experts have observed that stereotypes of black women, especially the stereotype of the 'angry black woman,' are projected onto black girls, and that black girls' behavior is often interpreted as threatening to adults' authority, which effectively adultifies black girls in harmful ways."
For the report, 325 adults of various racial and ethnic backgrounds from across the United States were asked to complete a nine-item questionnaire online about their perceptions on young girls' development today. The participants were recruited through an online service in order to obtain a diverse, community sample of adults, the researchers wrote in their report.
The adults were randomly assigned questionnaires specifically about either black or white girls, not in relation to each other or racial groups. The survey collection started in December and continued over a few months into this year.
The questionnaire included questions like "How much do black (or white) females seem older than their age?" and "How much do black (or white) females need to be comforted?" and "How knowledgeable are black (or white) females about sex?"
For each question, the adults responded using a five-point scale to indicate one - "not at all;" two - "a little;" three - "undecided;" four - "somewhat;" and five - "a great deal." The adults responded to each question for each age bracket of 0 to 4, 5 to 9, 10 to 14, and 15 to 19 years old.
Even though the online questionnaire responses were self-reports, the respondents were unaware that their responses about black or white girls would be compared with the other race. Therefore, that lowered the risk of respondents hiding their own biases and skewing the data, said Jamilia Blake, associate professor of educational psychology at Texas A&M University and a co-author of the new report.