Astros' George Springer "Strikes Out" 3rd Annual Bowling Benefit for Camp SAY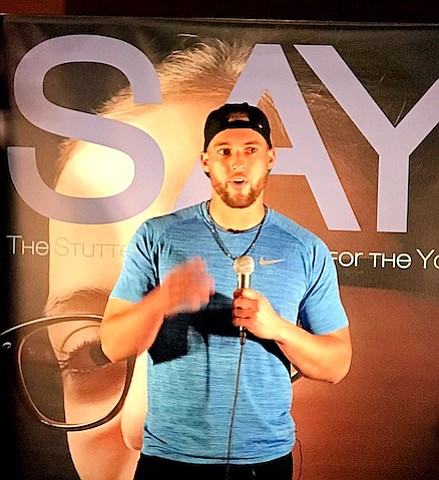 The worst thing a baseball player can hear is the word strike. But on this night that word was what George Springer and all the Houston Astros players in attendance wanted to hear as they made strikes for children who stutter. Astros' Outfielder George Springer brought along family, friends, and teammates to help raise money for underprivileged youth to attend Camp SAY at the Third Annual George Springer All-Star Bowling Benefit.
Every year the goal is always the same. Raise a lot of money to send as many children as possible to Camp SAY. Located on a 500 – acre facility in North Carolina, Camp SAY is a summer camp for kids who stutter to attend to build effective communication and social skills. Over 3 million Americans deal with the issue of stuttering on a daily basis. And Springer is doing his part to get help to as many children as possible.
"George grew up a shy, but very outgoing kid who overcame all obstacles," says Springer's older sister Nicole. She also added that this event means so much to him and he looks forward to it every year. As the national spokesperson for Camp SAY, Springer is always telling of his struggles with stuttering to encourage children to embrace their stutter and find their voice.
Camp SAY founder Taro Alexander has the same sentiments as Stringer. Alexander, who also stutters said, "To see the smiles on the faces of those kids who are being helped makes him smile himself." Alexander was very grateful for the slugger's help in bringing awareness. "My goal is to make sure that every kid out there knows that there is a place for them to come and feel comfortable about what they are going through," says Alexander.
Held at Lucky Strike downtown, the event brought out many individuals who are involved in helping kids to overcome their obstacles. The affair co-chaired by Lara Bell and Melissa DeAyala with Junior Chair Matthew DeAyala and Honorary Chair Dr. Carolyn Farb was filled with bowling, a silent auction, and food. Almost 300 fans raised more than $150,000.
One of the highlights of the night was the guest speaker. Thirteen-year-old Camp SAY teen participant Reuben Polanco had the attention of the crowd. "At Camp Say, I know I am not the only one who stutters and my confidence can soar with the support of my friends." This nearly brought the people in attendance to tears.
After the tears came cheers for Springer and the roster of celebrity lane captains that included: KPRC Radio Host Michael Garfield, Culture Map's Ken Hoffman, KPRC's Khambrel Marshall, Houston Texans Whitney Mercilus, KTRK's David Nuno, Former Houston Oilers Dan Pastorini, KHOU's TV Anchor Ron Trevino, and ESPN Radio Host Barry Warner.
For more information, you can go to www.say.org.