2017 Chevrolet Cruze Hatchback: Big Things Comes In Small Packages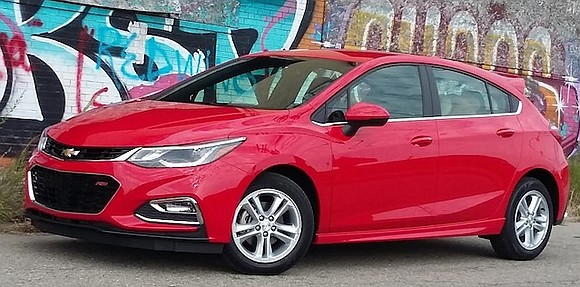 The 2017 Chevrolet Cruze Hatchback is the perfect compact car with a surprising amount of room for you and your passengers. Our multiple encounters with Chevrolet's second-generation Cruze sedan have been a blast. First, we enjoyed the thrill of the 2016 Cruze Sedan Premier, and now the all new 2017 Hatchback Premier 1SF. Hitting the road in this fire engine red hatch was a real eye turner, and we did not mind the thumbs up while on the road from other drivers. Here's a quick rundown of what we like, what we don't and the bottom line from Reggie's auto report!
I received this vehicle early in the morning, and hopped in to get a fill for it quickly! First eye-catching detail was the interior. Oh my, the peanut butter interior was gorgeous. This by far was the BEST part of the vehicle to me. It added a luxury finishing that quickly stood out and literally had people giving countless compliments. Once behind the wheel, I quickly noticed how quiet the cabin was, despite being in morning downtown traffic. The good looks with the added overall comfort were the best.
The new hatchback body style debuted this year, as well as a new diesel-powered engine for the Cruze sedan. Also, perfect for the graduating high school senior, every 2017 Chevrolet Cruze comes standard with a new suite of parental watchdog parameters called Teen Driver mode. Small sedans are getting better every year, and for proof, you only need to check out this ride and we are certain you will like the way the Cruze sips gas while still giving you a good pick up!
The Cruzes Premier 1SF comes with 153-hp 1.4-liter turbocharged inline-four paired with either a six-speed manual transmission or a six-speed automatic. Even with acceleration, this engine is surprisingly smooth and its noises are well suppressed. Our premier package was the highest trim at $24,820. This gives you the 17-inch wheels, leather seats (heated in front), a heated steering wheel (one of my favorites in the fall and the winter), a power driver's seat, keyless ignition (double plus for hot spring and summer days to have the climate automatically set on start with the keyless ignition feature) and a proximity key as standard. The LT manual hatchback is EPA-rated at 28-mpg city and 39-mpg highway. Our premier, which is slightly heavier and comes only with an automatic transmission, gets 28/37 mpg.
Of course, safety is always first. All 2017 Chevrolet Cruze models come with stability control, four-wheel antilock disc brakes, full-length side curtain airbags, front knee airbags, and front and rear side-impact airbags. Also standard is OnStar, which includes automatic crash notification, on-demand roadside assistance, remote door unlocking, and stolen vehicle assistance.
Overall, it is clear that the folks at Chevy are pitching the Cruze hatch as a youth car. It certainly checks all the right millennial boxes: available Wi-Fi, a solid media system, and a cool-yet-useful body. No doubt, the car is fun to drive and a real head-turner. Get to your nearest Chevrolet and test drive the all new, 2017 Chevrolet Cruze Hatchback Premier 1SF and tell them Reggie from Houston Style sent you. Until next time folks, I'll see you on the road!