FBI Director Nominee Vows Independence: No 'pulling punches'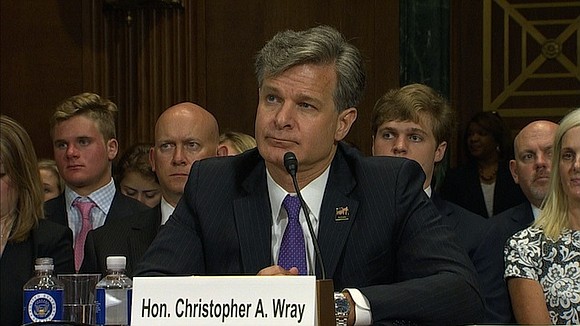 By Tom LoBianco and David Shortell
CNN
(CNN) -- President Donald Trump's pick to run the FBI pledged his independence Wednesday in leading the agency, telling a Senate panel at his confirmation hearing he would not be "pulling punches" in the position.
"Anybody who thinks I would be pulling punches as the FBI director sure doesn't know me well," Chris Wray told the Senate judiciary committee in response to a question from committee Chairman Chuck Grassley.
He also told Democratic Sen. Patrick Leahy of Vermont that no one in the administration asked him for a "loyalty pledge," as former FBI Director James Comey alleged Trump asked for earlier this year.
"And I as sure as heck didn't offer one," Wray said.
Wray is running into new questions about Russia's interference in the US elections as a political storm has swept up around Trump's eldest son.
Last summer, Trump Jr. agreed to meet with Natalia Veselnitskaya, whom he believed to be a "Russian government attorney" after receiving an email offering him "very high level and sensitive information" that would "incriminate" Democratic presidential nominee Hillary Clinton, according to emails the younger Trump publicly released on Tuesday.
In a dramatic exchange, Sen. Lindsey Graham a South Carolina Republican, grilled Wray on Donald Trump Jr.'s email. Graham read Wray the exchange and asked how he would advise him if he wanted to take a campaign meeting with a foreign adversary.
"I would think you would want to consult with some good legal advisers before you do that," Wray replied.
Graham responded, "You're going to be the director of the FBI, pal!"
Wray responded saying as with "any threat or effort to interfere with our election" that "the FBI would want to know."
Leahy also asked Wray how he'd respond if the President asked him to do something unethical or unlawful.
"First, I would try to talk him out of it, and if that failed, I would resign," Wray said.
Trump's selection of Wray, a former federal prosecutor who enjoys broad bipartisan support, has been viewed as a rare bright spot amid the calamity spurred by the President's firing of Comey in May.
But Wray is appearing in front of one of the at least four congressional committees looking into Russian interference in the election, just as Trump Jr.'s meeting with Russian lawyer Natalia Veselnitskaya has reignited questions about the Trump campaign's involvement. A Justice Department-appointed special counsel is also investigating Russian interference in last year's election.
Grassley played up Wray's bipartisan bona fides in his opening statement -- an implicit nod to concerns lodged by critics in the wake of Comey's firing.
"It's vitally important for the FBI director to be independent. In reviewing his record. I've seen Mr. Wray's commitment to independence. He's prosecuted 'little guys' and 'big guys,' including a major league baseball player, gun-traffickers, and RICO violators. He's prosecuted folks on both sides of the political spectrum, including folks working on a Republican campaign," Grassley said.