Hulk: 'I'm sure racism doesn't exist in Russia anymore'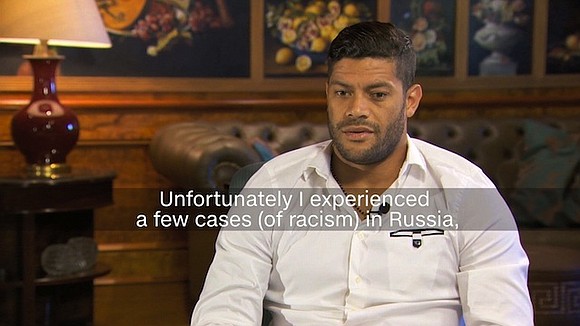 By Henry Young and Amanda Davies
CNN
(CNN) -- Two years on from saying he encountered racism in "almost every game," former Zenit St. Petersburg striker Hulk says the issue is no longer a problem in Russia.
"I'm sure it doesn't exist anymore," the Brazilian told CNN Sport's Amanda Davies. "It didn't happen at any stage during the Confederations Cup; I'm sure it won't happen at the World Cup."
And asked whether the problem has been solved in Russia, Hulk responded: "Yes -- I believe so."
Hulk, who joined Chinese Super League club Shanghai SIPG for $61 million in July 2016, has previously accused opposition fans of racial abuse during high profile clashes against Spartak Moscow and FC Torpedo Moscow in 2014/15.
Now though, he contends, "there's nothing to be worried about."
"Unfortunately, I experienced a few cases (of racism) in Russia, especially when I arrived in my first year," says Hulk. "With time, it began improving.
"I was getting used to Russian football. Russian people were embracing me more. So, I guess, one year before I left Zenit this wasn't happening anymore."
'I blew kisses to them'
André Villas-Boas, then-manager of Zenit St. Petersburg, said the monkey chants Hulk was subjected to that season were a "disaster" for the perception of Russian football around the world.
The offending clubs were sanctioned by the Russian Football Union disciplinary committee, with Torpedo fined 300,000 roubles ($5050) and ordered to play two home matches behind closed doors.
Even so, the player himself doesn't believe fans were setting out to be vindictive.
"I don't think of it as malice," says Hulk. "I think it's also slightly cultural."
Instead the 30-year-old -- the Russian Premier League's top scorer in 2014/15 -- puts the incidents down to supporters trying to "distract" opponents, and particularly star players.
"I paid a lot of attention to it and I got distracted from the game," he says. "That made me sad inside."
A year on from his four seasons in St. Petersburg, the Brazilian is also quick to forgive.
"I'm a person who doesn't hold any grudges," says Hulk. "With time, when it happened several more times, I began to relax.
"When the supporters tried to commit acts of racism or making monkey noises, I blew kisses to the supporters. That's how I responded to them."
'Racially abused for the game I love'
In 2012, a group of Zenit supporters released a manifesto calling for non-white and gay players to be excluded from their team. The club was quick to distance itself from the notice, but the incident arguably highlighted a wider malaise.
Brazil great Roberto Carlos, who joined Anzhi Makhachkala in 2011, twice had bananas brandished at him that year.
In 2013, Manchester City's Ivorian midfielder Yaya Toure was subjected to racist chants from the stands at CSKA Moscow, and voiced his disgust after the match, saying "I'm not just disappointed, I'm furious."
In November 2014, Hulk himself alleged he was racially abused by Russian referee Alexei Matyunin during a 1-0 defeat to Mordovia Saransk.