Black Culture In The Age Of Weariness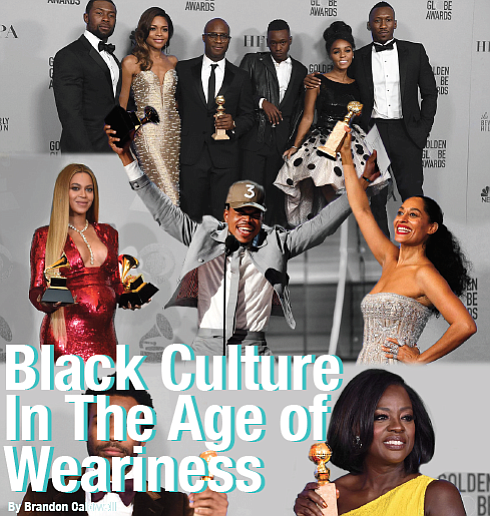 No matter the cultural achievement, the landmarks or more, our entertainment, our escapes are getting harder to consider as escapes. Sunday, Denzel Washington, whom we've universally considered as our finest actor will once again be nominated for an Academy Award in the Best Actor category. His lone win came in 2002, after he won for "Training Day", playing a psychotic, crooked police officer. His most triumphant work in which he played Malcolm X was denied in 1993 by Al Pacino in "Scent Of A Woman". Washington's masterpiece of walking through every reinvention of Malcolm Little turned Malcolm X turned El Hajj Malik-Shabazz lost to a blind retired army officer.
Black consciousness wraps itself around our films, our music and our stories because they are considered outliers long before they are ever given their cultural respect and appreciation. Regardless of how universal "Lemonade" meant to Adele and numerous non-Black members of Beyoncé's BeyHive membership, there will forever be a "…yeah but" attached to the work. It is how we approach everything that isn't tied to a particular skill set. Because that skill set is continually denied, passed over or merely forgotten.
Phife Dawg of A Tribe Called Quest once rapped with conviction, "I'll never let a statue tell me how nice I am." But it's not the statues that define us, it's the work. The work of films such as "Moonlight" that told many an audience that masculinity, in particular Black masculinity can be found after years of torment and misguided anger. That "Hidden Figures" could no longer deny the work of Black women in their contribution to the space race. That "Fences", a tale built around August Wilson's view of Pittsburgh can remind us of how powerful and necessary family is, regardless of infidelities, fractures, ego or more.
Our entertainment is not wrapped up in value, yet it is a standard bearer for how we carry our pride.
In a recent interview with GQ, Mahershala Ali spoke about two actors who he admired watching as a Black man. Denzel Washington and Forest Whitaker. Whitaker was the last African-American male to win Best Actor in 2006 for "The Last King of Scotland". Ali referred mostly to Whitaker as a "character actor". "I draw inspiration from him," Ali said. "Because in some ways, he's kind of present against all odds. You can't necessarily say what he is."
As Sunday draws closer, realize that Ali is up for Best Supporting Actor in "Moonlight". Realize that "Moonlight", "Fences" and "Hidden Figures" are all up for Best Picture, the highest film award of the night. Realize that this weekend may be the last for a while that we get to translate our emotions away from whatever considerable mess may rain down from Washington bureaucrats into art and entertainment for a considerable while. Black art is beautiful and it won't be long before that art and the various outlets they provide are stripped away. We're conscious of the world at large and how more often than not, those under the current eye of persecution could turn into us next. Because the more legislature that strips away the Voting Rights Act and other norms of the Black & Latino communities that gets passed, the more we'll be forever boxed in wondering where will our outlet to rage and cheer arrive.