"From the Field to the Stands" Former NFL TE Andrew Glover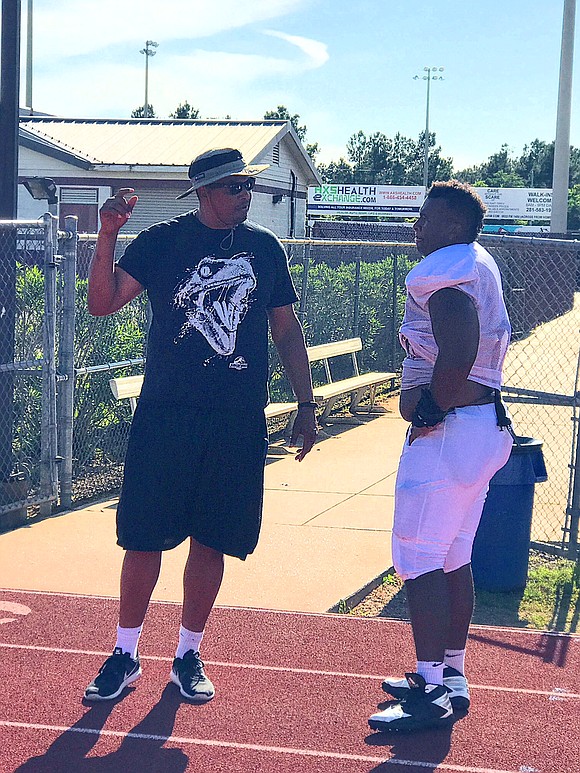 "Chris, keep driving big boy," says the loud voice bellowing from the football stands at Magnolia High School (Magnolia, Texas). It is an early humid morning and the man behind the voice is in his usual spot with the other dads who have come out to support their sons. As I get closer, the gentleman let out a forceful, but loving command. "Chris, you gotta drive him off the line." By this time I make eye contact with the person whose resounding voice can be heard over the music playing in the background. At first glance, this 6'7 human being can be a little intimidating to some because of his stature. Once I reach the bleachers he sticks out his hand, and this huge smile comes across his face. "How are you doing, brother," he says with a thick Louisiana accent. I soon realize that his size and personality are the same…BIG.
It was this same big size and personality that allowed Glower to take his tremendous amount of talent and propelled that into a 10 year career in the NFL (OAK, MIN, N.O.). He was an early look at what the TE position would eventually become in the latter years. A natural blend of speed, agility, and pass-catching, he had the ability to move a three hundred pound defensive lineman out of his way; things rarely seen by someone in his position before they entered the league. Glover got a lot of practice playing ball before he entered to league with on e of the greats, legendary football Coach Eddie Robinson of Grambling State University.
Glover took those skills he learned on the field and ingrained them in his kids who have followed him into the sports world. He and his wife Mary are their kids' biggest fans and often at their games. Their oldest PJ is a college football player in California. Middle child Christon is a senior OL varsity football player at Magnolia High School with the baby Alex who is also at MHS as a junior classman varsity volleyball player.
Glover agreed to sit down with me and have a discussion about the state of the National Football League both past and present.
HSM: Let me first say that it is an honor and a pleasure for me to interview you and I appreciate the time.
Glover: Anytime brother. I know we will be seeing a lot of each other this year (both our sons are teammates on the varsity team). And not just at the field. I hope to see you at a couple of the volleyball games as well (Alex has verbally committed to play at Southern Methodist University when she was 15 years old).
HSM: Of course, I hear she is an unstoppable force out there.
Glover: Come on brother. Look at her dad. You know she going to be good.
(We both laugh loudly enough to catch the attention of the players on the field)
HSM: What is life like after the National Football League?