Measuring Stick: Houston Texans vs New England Patriots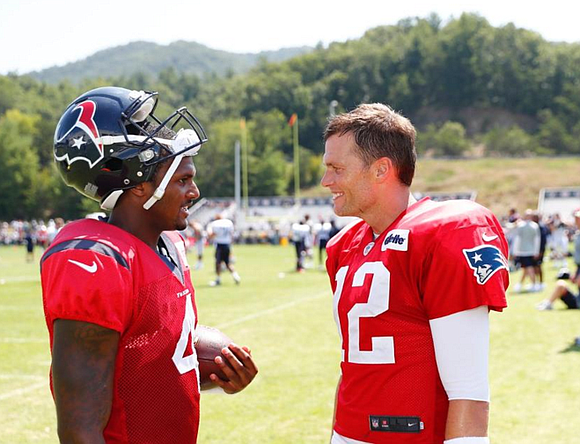 The Houston Texans will take on Super Bowl Champions New England Patriots in their second preseason game. It will be a good test for the Texans as the Patriots have set the bar for excellence in the National Football League. Hopefully, some of that will rub off on Houston as they get a chance to witness first-hand how a champion prepares for the season. When you can see how future Hall of Famers as with Coach Bill Belichick and QB Tom Brady set the tone for the rest of the team, you take advantage and notes.
There are a number of key positions Houston Texans Head Coach Bill O' Brien will be looking at in this game including WR, QB, and OL just to name a few.
"Continued improvement. I think the guy comes out every day and tries to get better, and that's what you've seen. He is improving in his knowledge of our system, he's improving in understanding the defensive looks," said coach O'Brien when asked about first round draft pick QB Deshaun Watson. The quarterback position is one of the spots the Texans need to improve on after the one year experiment with Brock Osweiler (Cleveland Browns) didn't work. Watson took some snaps with the first team offense, but for right now Tom Savage is still the starter.
"It's different just because I am getting reps with the ones against the ones. That's been huge for me. Just knowing I can go out there and I can do this and I can take over for this team and handle it," said a very confident Savage when asked about his mindset this year.
The defensive unit will look to work All-Pro J.J. Watt back into the rotation as he will get more snaps in the next game. Practicing against the Pats offense was a great way to see how his progression is going. "It's always good to go out there and get some reps against somebody of that caliber (Brady)," said Watt. He went on to say that he treats every practice like he does a game, so there is really no difference to him. Houston has put together a very good plan to keep J.J. healthy this season that hopefully will pay dividends for 16 games and beyond.
Houston will be looking for a repeat performance from the RB position as rookie D'Onta Foreman will carry a lot of the load. This will give Coach O' Brien a chance to evaluate what has turned out to be a loaded back field for the Texans. When asked about the rookie this week starting running back Lamar Miller had nothing but high praises for the former University of Texas running back.
"I think he has been doing a great job getting adjusted to the NFL. I think he has done a great job in practice and his first preseason game," said Miller.
The Texans will once again be without their starting offensive lineman Duane Brown as he continues to hold out of training camp. If this lingers on it could become a problem as the franchise looks to have a breakout season and improve on last year's success.
Kick-off is at 7pm (CST).