Football Is Back In Houston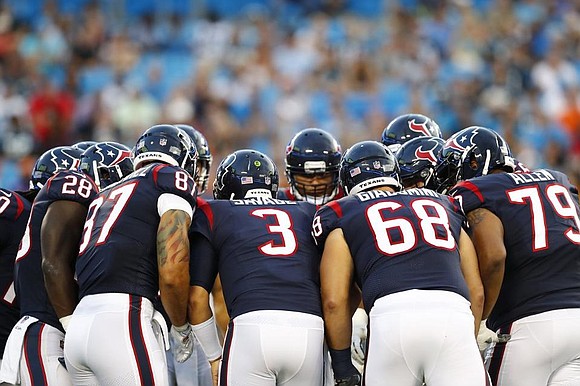 At last, the wait is over. Football is back. The Houston Texans opened the preseason against the Carolina Panthers in the Bank of America Stadium in Charlotte, NC on Wednesday night (8/9/17). As is the case with most NFL preseason games, the Texans' primary goal was to evaluate some of their younger talent and shake the rust off the veterans.
It was evident that the Texans hadn't played competitive football in a very long time and it showed. The starters took some time to get going after stalling on offense on the first two drives. Without holdout veteran left tackle Duane Brown, the Texans offensive line looked a little out of sync. Starting QB Tom Savage was under some heavy pressure from the Panthers defense due to the shuffling of players along that line. The 13-play 75-yard drive, which was capped off by an impressive and hard fought 16-yard run by backup RB Alfred Blue, gave the Texans a view of what will be once they get more game time under their belts.
An area of concerned sure to be highlighted in the next film session will be the amount of penalties the Texans committed (12). Head coach Bill O'Brien will be sure to address the importance of how penalties stop drives on the offensive side of the ball and sustains them on the defensive side.
Speaking of defense, Houston welcomed back All-Pro and three-time Defensive Player of the Year J.J. Watt. It was his first time back on the field since back surgery in September 2016. Texans defensive coaching staff wants J.J. to slowly work his way back into game shape, which is why he was limited to only one series. J.J. looked fluent in that series, but it will take some time to return to the dominant player (376 combined tackles and 76 career sacks) Texans fans have had the pleasure to witness over the last six seasons.
Houston, who had not drafted a quarterback in the first round since its inaugural season (2002 – David Carr), finally got a chance to see their 2017 first-round draft pick former Clemson QB Deshaun Watson in action. Watson had not played a competitive down of football since that final dramatic drive in a come from behind win in the 2017 NCAA Division I National Championship game against Alabama. The 2017 Heisman Runner-Up took the majority of the offensive snaps going 15-25 for 179 yards. Watson also had three carries for 24 yards and scored his first NFL rushing touchdown. Accuracy will be an area he will have to improve on, but the Texans offensive coaching staff will work on that as camp moves forward.
Coach O'Brien had some positive things to say about the rookie QB after the game. "I have to watch the tape, but I thought moving the ball there were some good things. He's a smart player. He's an instinctive player. His first game out there I thought he did some good things. It's a big jump. It's a big jump from college to the NFL, and I thought he handled it pretty well."
Houston will play its next preseason game on August 19th against the defending Super Bowl Champions New England Patriots.