China Willing to 'pay a price' for Stronger North Korea Sanctions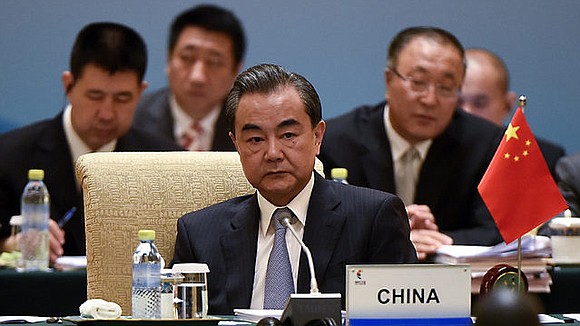 By James Griffiths and Serenitie Wang, CNN
(CNN) -- China is willing to take the economic hit of greater sanctions on North Korea, a top official said Monday, as Washington continues to pressure Beijing on the issue.
"Given China's traditional economic ties with North Korea, China more than anyone will pay a price for implementing the resolution," Chinese Foreign Minister Wang Yi said at the ASEAN Regional Forum in the Philippines, according to a statement from the ministry.
"In order to maintain the international nuclear non-proliferation system and regional peace and stability, China will, as always, enforce the full content of relevant resolutions in a comprehensive and strict manner."
Sanctions were imposed in the wake of Pyongyang's testing of an intercontinental missile apparently capable of reaching the US mainland amid increased tensions on the Korean Peninsula.
In a Japanese defense white paper Tuesday, Tokyo said the threat from North Korean nuclear weapons has reached a "new stage," adding it was "conceivable" North Korea had made progress on miniaturizing a nuclear warhead to place on its new long-range missiles.
For its part, North Korea reacted angrily to the new sanctions, that were approved unanimously by the UN Security Council, accusing the US of "trying to drive the situation of the Korean peninsula to the brink of nuclear war" and promising to make Washington "pay dearly."
In a statement Tuesday, North Korean state news agency KCNA said the US "should be mindful that (North Korea's) strategic steps accompanied by physical action will be taken mercilessly with the mobilization of all its national strength."
Economic targets
While China has consistently supported UN sanctions on North Korea over the country's nuclear and ballistic missile testing, the US has complained Beijing does not do enough to pressure its neighbor and threatened targeted sanctions on Chinese companies.
Speaking to a US Senate Foreign Affairs subcommittee last month, Susan Thornton, acting assistant secretary of the State Department's East Asia bureau, said "the Chinese are now very clear that we're going to go after Chinese entities if need be."
A perceived failure by Beijing to act more stringently against North Korea led to a cooling of initially strong relations between US President Donald Trump and his Chinese counterpart Xi Jinping.
A Chinese government official said last month that China-North Korea trade was worth $2.6 billion in the first half of 2017, up about 10% over the same period last year.
But coal imports slumped by 75%, suggesting Beijing is gradually choking off North Korea's biggest source of foreign currency.
China's willingness to support the new sanctions sends a strong message to North Korea, said Patrick Cronin, an Asia specialist at the Washington-based think tank Center for a New American Society.
"North Korea's economy is not so large that it can afford to forgo stiff economic sanctions on exports like coal, one of the mainstays of (the country's) economy," he said.
"So for China to join, on top of the international community, sends a signal to North Korea that this is serious economic damage if they don't find a way to reduce those sanctions and the pressure from that."