Shea Moisture Criticized for New Video Campaign
Natasha Ero | 4/28/2017, 10:17 a.m.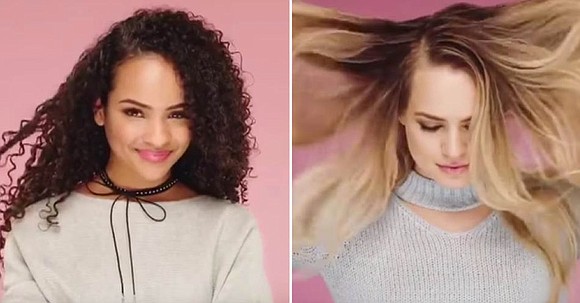 Shea Moisture released a new ad as part of their #BreakTheWalls campaign on their Facebook page Monday that sparked controversy on Twitter. The video features an African American woman, and in an attempt to expand their current demographic, also features two Caucasian women. The video opens with a black woman sharing her personal experiences with "hair hate," then quickly switches to two white women discussing their issues with hair. The ad tries to push the message, "break free from hair hate" and "embrace hair love in every form," but the intended message seems to get lost by including white women in the ad.
Shea Moisture is widely known as a natural hair and skin care line that caters to black women. Black women expressed their frustration over the ad saying, "The problem isn't that Shea Moisture included white women in their ad, the problem is that they excluded black women," @iGiveYouWings tweeted. "Shea Moisture really went all hair matters on us," @VoteMisskeith tweeted.
Black women purchase nine times more ethnic beauty products than their counterparts, according to Nielsen. Women who use the brand's products are upset because they feel that now the company has gained a certain level of prominence, they are abandoning their core audience. Black women feel responsible for helping Shea Moisture achieve that level of success. "Black women control over 50 percent of the annual adult black purchasing and spending power," according to financial expert Tara Jackson. Black women are three times as likely to be the head of household than other minority groups, making them one of the most powerful consumers, according to Jackson.
Shea Moisture removed the video from their Facebook Monday. The company issued an apology Monday afternoon on all of their social media platforms. "Please know that our intent was not, and would never be, to disrespect our community. We've never believed that one size fits all especially with hair and skin needs," said Sundial Brands and Shea Moisture CEO Richelieu Dennis. Dennis spoke with Fast Company on Tuesday about the ad campaign. "To equate their struggles with hair to those of other women, is in their minds trivializing their struggles, and we can't forget that," says Dennis. "What they are saying is…we should keep our focus on our audience, and not lose that focus just because we're broadening our audience."
Shea Moisture was voted Overall Favorite Brand in Naturally Curly's Best of the Best survey in 2015 and 2016. Shea Moisture, whose mission statement is "A Better Way to Beautiful Since 1912," uses certified organic, natural and fair trade ingredients in their products. The brand prides themselves on not using paragons or sulfates in their hair products. Shea Moisture was founded in Harlem in 1991 by Liberian refugees Nyema Tubman and Richelieu Dennis. Dennis' grandmother, Sofi Tucker, who sold Shea butter and African black soap in a village in Sierra Leone, inspired the company. Ten percent of Shea Moisture's Community Commerce proceeds go to women-led businesses to support the Sofi Tucker Foundation and the communities that provide the ingredients for the company's products.