Spring Makeup Looks You Have Got to Try
Kim Roxie | 4/21/2017, 9:19 a.m.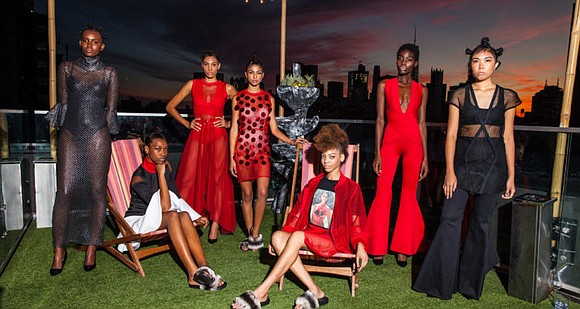 Oh my, how things have changed in just a few weeks. Spring is finally here! Flowers are starting to bloom. The sun is starting to shine a little more. What I like to call spring is the Resurrection of Color. During New York Fashion Week (NYFW), designer Samantha Black showcased her new Spring/Summer line called Kingston + 917. She showed us how the color pallet this season should be over the top and dramatic but still feel comfortable and easy to wear at the same time. She stated, "I want women to look great, feel great and not be confined." Break out your color and confidence to match this season colorful scene. NYFW Backstage make-up scene screamed fierce, confidence and popping colors. Here are some runway-to-real life looks you can try.
Get your Blush on! I know you have that old make-up set that your Auntie gave you for Christmas. We all have those sets that we don't use that we have been stacking up for years collecting dust. Go through those sets and find your blush brush and a color that you never dared to wear, you know that color you think is only for your Grandma and sculpt those cheeks. And for a little bit more glam use a pink, reddish or orange tone as seen on the runway and take it all the way to your temples and blend it out. Sing this melody in your head Getcha, Getcha Blush On, Getcha, Getcha Blush On!
It wouldn't be spring without luminous glow and highlighted skin. Take a golden eyeshadow and a small amount of moisturizer and give the illusion of you sweating 24karats. Take the spread and hit the low points of your face, your nose, the inner corner of your eye, the top of the cheekbone, and the Cupid's bow. And with the temperature rising the dewy effect warms it up even more. For experimenting, try the LAMIK eye decor, golden girl. For example, New York fashion week designer Samantha Black used this golden glow look for her models in the NYFW presentation. A suggestion for an all-over body glow is to try La Belle Femme Body Butter made with Coconut oil, Shea butter, jojoba wax, olive oil, Glycerin, organic honey and oatmeal and Vitamin E.
Finally, don't forget about your lips. Either go Bare or go Bold with an haute pink or a nude lipstick. Simple as that. When you think bare think of Alicia Keys. Always a fun look to do in the springtime is to bare a natural lip with a hint of pink. When choosing your pink this Spring don't just think of Pastel Pink, which is always cute and fun, but let's try something a little bit more dramatic like a Retro 80's Pink color, that will give just enough pink to give you that pop on that the runway called for this spring.