Ossoff Falls Just Short In Georgia Special Election As GOP Gets Wakeup Call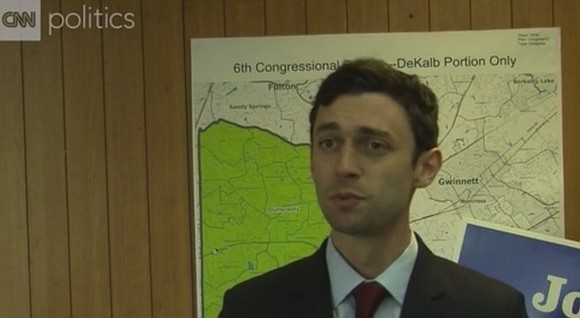 ATLANTA (CNN) -- Democrat Jon Ossoff fell just short Tuesday of capturing a House seat in a longtime conservative stronghold in Georgia, serving a reminder to Republicans of President Donald Trump's unpopularity.
Ossoff received 48.1% of the vote, shy of the 50% he needed to win outright. He and the other top vote-getter -- Republican candidate Karen Handel, who received 19.8% -- will now face off in a runoff election in June, a likely uphill climb for Democrats now that the Republican vote in a reliably GOP district will be consolidated behind one candidate.
The hotly contested race carried major implications as a gauge of the President's popularity -- and Trump himself seemed to grasp the high stakes, playing a direct role in its closing days.
Democrats saw it as an opportunity to drive a wedge between Trump and congressional Republicans fearful that he could drag down the party in the 2018 midterms -- while also delivering a psychic boost to an energized progressive base.
They nearly pulled it off. It was a strong showing for the Democrats in an unusual "jungle primary" in a district that Mitt Romney won by 23 points in 2012, and where Republican Rep. Tom Price was re-elected with nearly 62% of the vote in 2016 before being named Trump's health and human services secretary.
"There is no doubt that this is already a victory for the ages," Ossoff told supporters late Tuesday night. "That no matter what the outcome is tonight -- whether we take it all or whether we fight on -- we have survived the odds. We have shattered expectations. We are changing the world. And your voices are going to ring out across this state and across this country."
Even after Ossoff left the stage, many supporters stuck around, chanting, "Flip the Sixth!"
Trump 'glad to be of help'
A little-known 30-year-old former congressional staffer, Ossoff quickly emerged as an online fundraising superstar. Progressive activists led by the liberal blog Daily Kos pumped $8.3 million into Ossoff's campaign largely because it represented their best odds out of four special elections for previously Republican-held House seats of flipping one and sending a message.
Trump erased any doubt the contest was all about him when he waded into the race at the last minute. Trump recorded a robocall to Republicans in the district and attacked Ossoff on Twitter repeatedly on Monday and Tuesday. The President tweeted after midnight that he was "Glad to be of help!" -- even though the district was competitive largely because of Trump's unpopularity with the white-collar white voters who make up much of its voting base.
Handel said on Twitter Wednesday morning that Trump had called her.
Handel told CNN's "New Day," that despite preventing a Ossoff from an out right when, the situation in the district is "all hands on deck" for Republicans.
"We know what is at stake here and I don't think that this is about any one person," Handel told CNN's Chris Cuomo. "We all have to rise above it -- that it is about the district that has a long legacy of Republican leadership."