Unanswered Questions
Texans have a tough road ahead of them to repeat as AFC South champions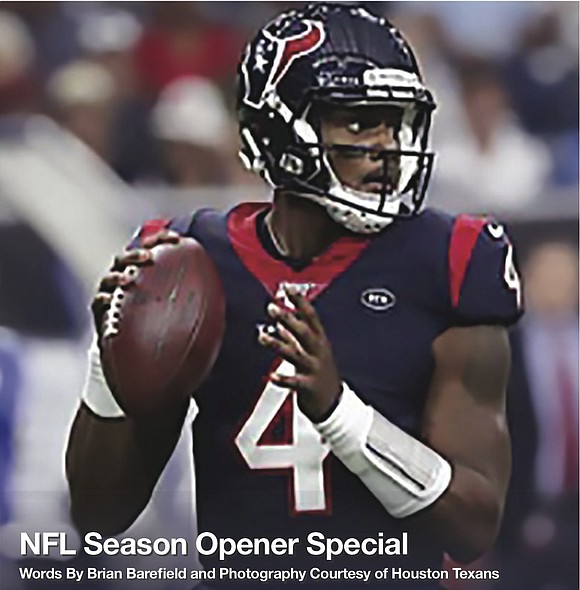 Protecting franchise quarterback Deshaun Watson, who finished last season with 4,165 yards passing, 26 touchdowns and only nine interceptions, has always been priority number one within the organization. The acquisition of Tunsil will give him enough time to get the ball to a wide receiver group that includes 2018 First-Team All-Pro, DeAndre Hopkins (1,152 yards receiving, 11 touchdowns, 0 passes dropped) and two guys who can stretch the field in Will Fuller and Kenny Stills. Second year tight end Jordan Akins looks like he is ready to take over as the starter after having a great training camp.
"We have a lot of reasons to be excited about where we are right now," head coach Bill O'Brien said at his press conference on Monday at NRG. "I would say that on the roster and the moves that were made, I feel really good about being able to get a proven left tackle to protect Deshaun Watson. They're hard to draft, they're hard to develop, but Laremy Tunsil is an excellent player who was here last night, yesterday afternoon, in here right now meeting with Mike (Devlin)."
The running back position will be done by the committee to begin the season with Duke Johnson and Carlos Hyde splitting carries. Johnson is a great third down back who becomes another passing option for Watson out the backfield. Losing an experienced back like Lamar Miller (973 yards rushing) will hurt. Miller's bruising running style made him tough to bring down, but it is his pass blocking ability that will be missed.
One major concern for Houston will be on the defensive side of the ball. Replacing a major talent like Clowney won't be easy. Especially when you have to face future Hall of Fame quarterbacks Drew Brees (Saints), Tom Brady (Patriots), and Phillip Rivers (Chargers), one past and one present league MVP in Matt Ryan (Falcons) and Patrick Mahomes (Chiefs), Super Bowl LII MVP Nick Foles (Jags), and phenom Lamar Jackson (Ravens).
Luckily, the Texans have a player who can shut down one entire side of the field. J.J. Watt, who made All Pro at two positions last season (Edge rusher, Interior lineman) had 16 sacks last season will have some added pressure this season as offensive coordinators will send more players to slow him down without Clowney being in the lineup.
The defensive backfield for Houston is as good as they come in the AFC. Safety Justin Reid is coming off a great rookie campaign (70 solo tackles, 10 pass deflections, and 3 interceptions) and will team up with newly acquired Tashaun Gipson who was with the division rival Jacksonville last season.
My prediction is that the Texans will end the regular season with a record of 10-6. That will be good enough to win the division and get them to the playoffs. I feel for this season to be a success that coach O'Brien has to at least get the team to the AFC Championship game or they will be right back in the offseason answering questions about what went wrong.