Five takeaways from Elizabeth Warren's CNN town hall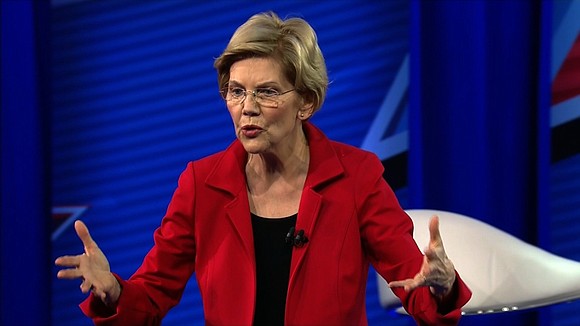 By Gregory Krieg, CNN
(CNN) -- Sen. Elizabeth Warren has a plan -- for just about everything.
The policy-fluent Massachusetts Democrat zipped through her thick suite of legislative and regulatory proposals for a CNN town hall audience in Jackson, Mississippi, on Monday, taking questions from voters and, in a declaration that won her a prolonged ovation, saying for the first time that she would support replacing the Electoral College with a national popular vote.
Warren launched her presidential campaign early but has struggled to break through in the initial round of primary polling. She used the national stage to show off the energetic stage presence and affecting personal story that have become a hallmark of her presence on the stump.
For more than an hour, Warren hit on issues ranging from the future of health care in America to her plan to break up tech giants like Amazon and Facebook. She also faced a question about her claims to Native heritage and backlash that followed.
Dropping out of the electoral college
Warren has been critical of the Electoral College in the past. On Monday, she took it a step further, calling for its elimination.
Asked about how she would expand voting rights, Warren described the process for electing presidents -- that race to 270 electoral votes -- as a de facto form of disenfranchising voters in states dominated by a single political party.
"Come a general election, presidential candidates don't come to places like Mississippi, they also don't come to places like California or Massachusetts, because we're not the battleground states," Warren said.
The town hall audience was already cheering its approval as she added, "My view is that every vote matters and the way we can make that happen is that we can have national voting and that means get rid of the Electoral College."
The issue has gained added traction with Democrats in the aftermath of Hillary Clinton's 2016 loss to President Donald Trump. Clinton won by nearly 3 million votes but was upset by Trump, who narrowly carried a raft of swing states in the Upper Midwest. Republicans have won the White House in three of the of the last five races, but only once -- in 2004 -- did the GOP candidate win the popular vote.
Reparations are on the table
The prospect of paying reparations to the descendants of slaves has slowly emerged as a potentially divisive flashpoint in the Democratic primary. Candidates have struggled with how to address the question, which has for so long resided on the fringes of presidential politics.
Warren, who has made proposals to close the racial wealth gap a staple of her stump speech, was asked about it early on in the night and said she would back congressional legislation that, according to its mandate, would form a panel "to examine slavery and discrimination in the colonies and the United States from 1619 to the present and recommend appropriate remedies."
"I believe it's time to start the national, full-blown conversation about reparations," Warren said. "That means I support the bill in the House to appoint a congressional panel of experts, of people who are studying this, who talk about different ways we may be able to do it, and to make a report back to Congress so that we can as a nation do what's right and begin to heal."