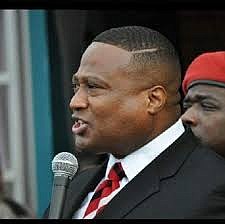 From the writer: To be clear, I am elated that information obtained by Quanell X helped authorities recover the remains of 4-year old Maleah Davis so that her family may finally lay her to rest. Her family has planned a private funeral this Saturday, June 22, 2019, nearly a month and a half after she was first reported missing. As her family says their final goodbyes, many of us still hold out hope that those responsible for little Maleah's death are brought to justice. Maleah became "Houston's baby" and captured hearts all over the world when police issued an amber alert in the early morning of May 5, 2019 based on information provided by Maleah's then caretaker, Derion Vence. Vence was Maleah's mother's live-in boyfriend and is the father of her younger brother.
At the time, Vence claimed that he, Maleah and his 2-year-old son had been abducted by three Hispanic males in a blue pick-up truck Friday evening, May 3, 2019 after pulling over en route to pick up the children's mother from the airport. He claimed the two men assaulted him, stole his vehicle and kidnapped Maleah, leaving he and his son at an unknown location on Highway 6 near Sugarland, Texas the following evening. The search for missing Maleah and the vehicle ensued after Vence presented to Methodist Sugarland hospital late Saturday night with injuries from the alleged incident and the public outcry for Maleah's return began.

As the case progressed, Houston Police investigators quickly uncovered inconsistencies in Vence's account after reviewing surveillance video from an apartment nearby the one he shared with Maleah, her mother and two other children. The video showed Vence leaving their apartment twice the early afternoon of the alleged abduction; once carrying a blue laundry basket with a large black trash bag inside, the second time carrying cleaning supplies including bleach. The video did not show him leaving the apartment again until the time he claims he left with the children to get their mother. Contrary to Vence's story, however, the surveillance footage showed Maleah was not with him and the 2-year-old when they left that Friday evening. Further, footage from surveillance cameras at the hospital showed Vence was dropped off at the hospital in the car that he claimed he had not seen since the alleged abduction.

Just days into the investigation, Maleah's mother, who authorities confirmed was out of town at time of Maleah's disappearance, consented to a search of their apartment. Investigators recovered blood evidence in the apartment's hallway and bathroom that would have been invisible to the unaided eye. This suggested to investigators that an attempt had been made to clean up the blood. The Houston Forensic Science Center later confirmed the blood sample was composed mostly of blood from the then missing 4-year-old. On May 9, 2019, the vehicle in question was located in Missouri City, Texas. But, there was still no sign of Maleah and no charges yet brought in the case. On May 10, 2019, the vehicle was examined and a blue basket similar to the one carried by Vence in the surveillance footage was recovered from the trunk after two separate cadaver dogs responded to the scent of decomposition inside.

May 10, 2019, was also the first time Quanell X (born Quanell Ralph Evans) was associated with the case when he held a press conference speaking on behalf of Maleah's mother. Quanell X employs a somewhat local "celebrity status" here in Houston, having a public persona which has landed him a role on the Fox 26 segment 'Faceoff' where he appears opposite normally more conservative pundits who challenge him on his views regarding various issues. In the news conference, Quanell gave details that were not then publicly known of the police investigation and also provided information which he said was shared with him by Maleah's mother. He claimed Maleah's disappearance may have had something to do with a confrontation the mother had with Vence over a homosexual affair she accused him of having. He also hinted to previous incidents of abuse of Maleah by Vence. The very next day, Vence was arrested and charged with felony tampering with evidence, namely a corpse, and held on a $1 million bond. Although investigators did not believe that Maleah was still alive, Vence was not charged with a homicide.

At that point, I was as anxious as anyone for someone to be brought to justice for what looked more like a homicide by the day. As an attorney, albeit not criminal defense, and despite my anxiety, I recognized the difficulty prosecutors would face in proving a homicide without Maleah's body, Vence's cooperation or any other solid circumstantial evidence to prove their case beyond a reasonable doubt. Because, in most states including Texas, homicide cases not only require proof of the act (an unlawful killing) but also proof of some culpable mental state (i.e. intent, negligence, or recklessness) and a causal connection between the act and the effect (i.e. something the accused did or didn't do that actually caused the death). In this case, at the time of Vence's arrest, without Maleah's body to tell the story of her demise and with him not talking, prosecutors certainly could not make a case for murder which requires intent to cause serious bodily injury or death. And even a manslaughter case at that point seemed tenuous even though they would not have to meet the burden of proving intent.


By May 23, 2019, Houston Police Chief Art Acevedo updated the public on the case's status, stating in his address, "We really believe we have a little girl that's been murdered. We believe that she's out there somewhere, and we want to bring her home." He also said that Maleah's family had been uncooperative. By that time, the case had garnered national attention and $20,000 in reward money, but still had no leads as to Maleah's whereabouts. Nothing more was heard of the case until May 28, 2019, when Quanell X resurfaced with breaking news that he would no longer be "representing" Maleah's mother. The events that led to the termination of the relationship are disputed but each accuses the other of lying about details of the case. On May 30, 2019 Vence's counsel withdrew his representation for nonpayment and the court appointed him a new attorney. Also, Crime Stoppers of Houston increased their contribution to the reward money bringing the total to $27,500. The very next day, Quanell X held another press conference. This time, he alleged to have gotten a confession from Vence including the whereabouts of Maleah.

Based on the evidence presented by Quanell, local authorities worked with Arkansas authorities and Texas Equushare to locate and return Maleah's remains which were discovered by a litter and mowing crew in a black garbage bag on the side of the interstate. But, with a month into the investigation, Maleah's body finally home, there were still no homicide charges. That's when my anxiety grew. Because although I recognized the deficiencies in the case, I also recognized the realities that even the weakest circumstantial cases have been brought and proven especially when public sentiment is such that it is.
With the recovery of Maleah's body, even in its deteriorated and presumably mangled state given how it was discovered, all prosecutors would have to do is put Quanell on the stand to testify to the confession to prove the homicide case against Vence. So I really began to wonder, what was the hold up? That's when I began to question whether Quanell X's involvement in the case was a help or hinderance to its prosecution. I began doing a little digging into Quanell X's background to see if maybe the issue is his credibility as the prosecution's star witness and all. The answer I uncovered left me dumbfounded. Not only is Quanell X likely a hinderance to the prosecution of a homicide in the case of Maleah Davis, but a hinderance to the community, in general.

By all estimations, in my opinion, Quanell is a wolf in sheep's clothing, holding himself out as a person of authority who can be trusted to help those suffering from injustices. From his public stances in high profiled cases, like the current one, to his regular appearance on Fox, Quanell has skillfully crafted an image that allows him to prey on those in underserved communities. So as far as this case goes he has major credibility issues and that will have to be worked around by the prosecution who must meet a high burden of proof. The community faces a bigger problem because it seems we have a predator in the midst of those already starved for justice.


My research began at Quanell X's official website www.qx4justice.com which calls him an "Activist for All who've Suffered from Injustice." Noble, right? On the site he claims to be a "Human & Civil Rights Leader" and highlights homicides he has "solved," including the cases of Tynesha Stewart in 2007 when he obtained a confession for the murder of the Texas A&M student; Randy Slyvester in 2008 where he got the father to confess to the murder of his children; and La'Melvin Johnson in 2013 when he peacefully surrendered the shooter in a carwash triple homicide. The site also highlights his tenure as a spokesman for the Nations of Islam and for a local platinum recording group. Oddly it touts his celebrity as achievements citing "[m]any hip hop artists have sampled his speeches and television interviews on their rap albums along with their rap videos." His bio concludes that he "is the only Houston activist that has gone viral 12 times with over 275 million views on YouTube and is now the leader of the New Black Panther Nation headquartered in Houston, Texas."
The sites oddities didn't raise an eyebrow initially beyond it making pretty clear that he relishes his fame, so I followed his lead, first going to YouTube to watch some of those viral videos and then to the New Black Panther Nation to get more information on his 'activism.' On YouTube, I saw much of what I expected to see, a lot of those 'fiery opinions' he has become known for on Fox. But, something I didn't expect was a video entitled "Victims of Quanell X." So, I watched it. I sat all 19 minutes and 55 seconds in complete aww of what I was hearing from three ladies who claimed Quanell X took thousands of dollars from each of them and delivered nothing but empty promises. One lady he took $3,500 from promising a media spot on Fox 26 to bring awareness to her relative's case; another he also took $3,500 from, this time holding out as a lawyer who could represent her brother in a federal case; and the last he took $17,500 claiming again to be a lawyer who could help her family resolve an out-of-state child custody case. The video also delivered my next planned research stop as it ended with a message from the national chairman of the People's New Black Panther Party who disassociated the group from Quanell and delivered a final plea for him to right the wrongs he has done in the community.
I reached out to the party's national chairman, Yahcanon Ben Yah, who graciously spoke with me for nearly an hour revealing that what I saw in the video was only the tip of the iceberg. In February 2018, The People's New Black Panther Party in Houston officially disassociated Quanell X from the organization after receiving dozens of calls for help from people alleging that Quanell had taken thousands of dollars from them promising some form of 'representation' but never delivering. Mr. Ben Yah detailed a pattern of fraud perpetrated on the most vulnerable in our community which spanned well over a decade where Quanell took anywhere from $1,500 to $38,000 from individuals, representing that he was a lawyer at times, then stopped taking their calls after receiving the money. He said the organization has tried resolving the issue with Quanell directly pleading for him to pay the people back their money, but so far their pleas have been met with obstinance. The group is currently helping victims pursue criminal charges through the Harris County District Attorney's Fraud Division in efforts to stop Quanell from further preying on members of the community with his decade old scheme.
In my attempt to reach the ladies in the "Victims of Quanell X" video, I was able to connect with Attorney Drew Willey who represents one of the ladies in the video, Latorsha Smith, who has filed a lawsuit in Harris County, along with her brother, to recover $3,500 they claim to have paid Quanell for legal services. Attorney Willey is a criminal defense and civil rights attorney who is also the CEO and founder of Restoring Justice a non-profit organization whose mission is to offer "loving and holistic criminal defense legal service for the oppressed, the forgotten and the poor." He also represents another victim of Quanell's, whose story was not shared in the video, who claims to have paid Quanell $2500 to get her son's criminal record expunged, according to court filings. Although Attorney Willey was not at liberty to discuss the pending matters, he answered the question I asked of 'who is Quanell X' with an answer that I think rings most true after knowing all I know now, "he is exactly who he claims to stand against."
In consideration of these revelations, I can only conclude that Quanell X will likely hinder the prosecution of the case for homicide against Derion Vence. Because of Quanell's reputation for fraud, or simply lying, there is room for Vence's defense attorney to create reasonable doubt as to the truth of his account of the 'confession.' The prosecutors have their work cut out for them with Quanell X as a star witness. I am interested in whether Quanell will face criminal charges, I will be following up in the coming weeks with the Mr. Ben Yah and the DA's office to see, because in the majority of the cases Mr. Ben Yah shared with me, the people who Quanell victimized were already underrepresented, so his actions not only caused monetary damages, but immeasurable ones that will have long lasting, life altering, effects for his victims.

I pray for justice for Maleah and also for the victims of Quanell X.