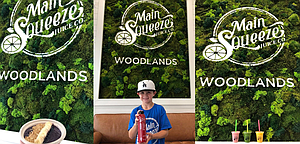 NEW ORLEANS, La. – Main Squeeze Juice Company, a newcomer to the more than $5 billion juice market, is opening its fourth location in the Houston metro area on May 24.
Located at 1900 Lake Woodlands Dr., the new location is owned and operated by friends Jeremy Soileau, Dax Parker and Brian Barrilleaux along with their wives Lilah Soileau, Emily Parker and Natalie Barrilleaux. The Woodlands is the first of 10 locations the friends plan to open throughout Texas over the next several years. The team is also breaking ground on a location in Humble, slated to open this fall.
"We are so excited to bring Main Squeeze to The Woodlands," said Dax. "Health is not a trend; it's a lifestyle, and Main Squeeze makes living a healthy lifestyle easy for everyone. We love Main Squeeze and know our community will, too."
"Along with the booming growth in the Houston area, the focus on healthy living has also dramatically increased," Jeremy added. "We are in the business of family-friendly health and happiness; we want to change our families' lives, and the lives of our employees and customers."
Main Squeeze's mission is to make healthy easier, and the company's nutritionist-designed, superfood-centric menu does exactly that by offering a daily source of plant-based nutrition packed with natural and quick energy. The concept's proprietary recipes feature chef-inspired cold-pressed juices and superfood smoothies, along with one-, three and five-day juice cleanse programs, wellness shots, and acai bowls created from organic and wild-harvested acai berries from the Amazon rainforest in Northeast Brazil.
"Health begins and ends with how you choose to fuel your body," said Thomas Nieto, CEO of Main Squeeze. "We strongly believe in crafting a menu with something for everyone, and we pride ourselves in knowing that every menu item is specifically chosen to help fuel and build a healthier lifestyle."
With 10 locations now open and operating, including locations in Conroe, Webster and Katy, Main Squeeze Juice Co. plans to open several more stores throughout the year. According to Nieto, the brand currently has more than 40 franchisee- and corporate-owned locations in various stages of development, and is poised to become a household brand within the next few years.