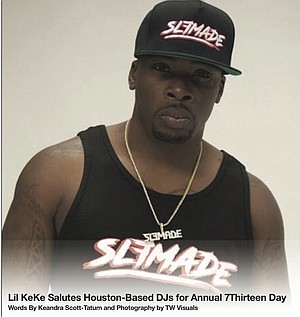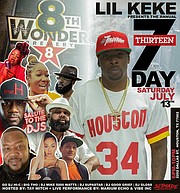 Ke'Ke: What's your vision for the management company?
Lil' Keke: Well, what I'm doing with that is I'm just taking it one- step at a time. Managing anybody's career comes with a lot. Especially, the way things are today and artists expectations. I'm trying to let the artist be themselves with their hard work and my hard work and a little bit of my expertise.
Marcus Crae is family; I've been knowing him for a really long time. He's very talented and has matured over the years. I only wanted to step in if I could do anything better. He has the talent to do something different and with hard work, anything can happen.
Ke'Ke: How do you feel about the new wave of Houston hip-hop?
Lil' Keke: I'm with it. Just make it work. I salute the ones who are taking it to the max. I think it's going up and the opportunities are getting better, that's a good sign right there.
Ke'Ke: Your music is timeless & therefore iconic & influential. What are some ways you are paying it forward on the Houston music scene?
Lil 'Keke: I've always loved 713, my city, and the opportunity to be a legend. Every year we try to do something with the event on July 13th. We bring a lot of artists out to perform. We host block parties every year. It's overwhelmingly crazy out there. Matter fact, it's a salute to all the DJs in the city; I just got a few DJs coming out. I'll be performing with a live band. The event is FREE and there will be merchandise, limited edition souvenir glassware, an art show and more. Every year it gets bigger and bigger.
Ke'Ke: This will be your fourth year pulling this impactful event off for the city (minus the year Harvey hit-2017). What's your drive behind saluting the DJs this round?
Lil' Keke: They always come out to support us rappers, especially when I was coming up. I wanted to change it around and make it about them. It's downtown for everyone to feel apart. We will have my DJ Big Tho, Good Grief, DJ Mike 5000 Watts, Go Dj Hi-C, DJ SupaStar and Dj Gloss.
The event will take place Saturday, July 13, 2019, from 6pm-10pm at 8th Wonder Brewery (2202 Dallas St, Houston, TX 77003). For more information on the Annual 713 (7-Thirteen) Day follow @DonKe713 on Twitter/Instagram and @LilKekeSeven13 on Facebook.