Budget talks sticking point: How many people ICE can detain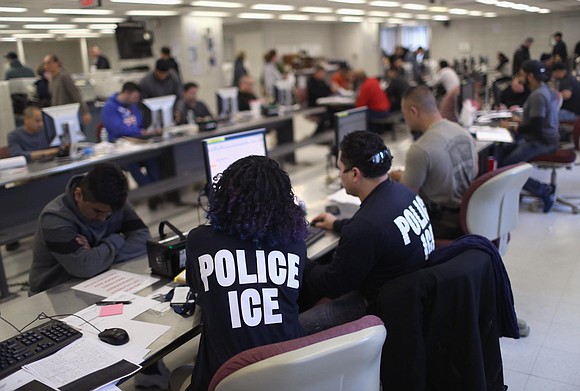 According to the agency, the majority of those arrested by ICE had criminal convictions (many of which are traffic offenses), followed by pending criminal charges, or previously issued final orders of removal.
Some of those booked are also people who had crossed the border illegally. According to ICE statistics, "book-ins to detention resulting from (Customs and Border Protection) arrests increased by 32%" in fiscal 2018 compared to fiscal 2017.
Some context Trump has repeatedly criticized the practice of releasing undocumented immigrants as they wait their immigration court hearings, which are oftentimes scheduled years down the line due to a massive backlog. (That backlog increased during the recent partial government shutdown.)
The White House and Republicans see the addition of detention beds as a way to prevent that. But there are still limitations: Children and families, who now make up the majority of apprehensions, can't be held for more than 20 days as a result of the decades-old settlement agreement Flores v. Reno. (The administration has tried to amend the agreement.)
Even with more detention beds, the administration would be limited in how long it can detain people.
Where the beds are is the key for Democrats
Democrats are seeking to cap the number of detention beds at 35,520 for the remainder of fiscal year 2019 and cap the number that can be used to detain individuals who were already in the US at 16,500 in an attempt to return to the level of interior detentions at the end of the Obama administration.
"A cap on ICE detention beds will force the Trump administration to prioritize deportation for criminals and people who pose real security threats, not law-abiding immigrants who are contributing to our country," said Democratic Rep. Lucille Roybal-Allard of California, the chair of the Homeland Security Appropriations Subcommittee and a member of the House-Senate Conference Committee on Homeland Security.
But the Trump administration has stood firm on its ask for 52,000 detention beds. During the last shutdown, the White House sent a letter to Congress including the request, citing an uptick in border apprehensions. Nearly 48,000 people were apprehended at the southern border last month, compared with nearly 26,000 in January 2018, according to data from Customs and Border Protection.
The National Sheriffs' Association and the Major County Sheriffs of America denounced the cap in a letter to House Appropriations Chairwoman Nita Lowey, D-New York, and the committee's top Republican, Kay Granger of Texas. Local law enforcement has a vested interest in ICE's detention capacity, given that the agency works with county jails across the country to detain undocumented immigrants.
"Any legislation that reduces ICE's detention capacity would hinder its ability to perform its national security and public safety missions, but also impact local law enforcement's ability to protect the communities they serve," the letter states. "In order to meet the cap being tentatively proposed by Congress, ICE would be compelled to release thousands of aliens from custody."
What's next
The House and Senate are scheduled to come back on Monday afternoon, but all eyes will be on what, if anything, the 17 conference committee members have to say publicly. The top four members of the House and Senate panels are expected to meet at some point to make a final push toward a deal, two sources familiar with the matter told CNN.
House Democrats might also move forward with a stopgap funding bill of some sort as a backstop if talks stall.
Trump has a campaign rally in El Paso, Texas, on Monday night.