Stacey Abrams, first black woman to give Democratic rebuttal, offers tough rebuke of Trump, GOP leaders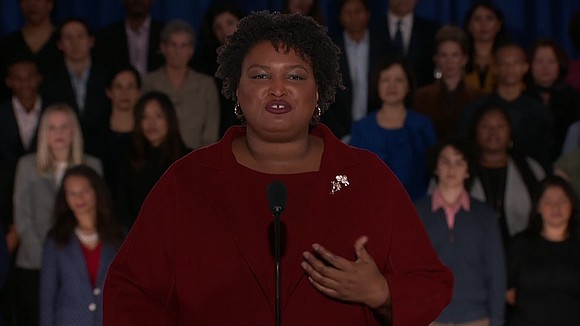 By Clare Foran, CNN
(CNN) -- Democratic Party rising star Stacey Abrams sharply criticized the Trump administration and Republican leadership on Tuesday night in her response to the President's State of the Union address.
Abrams blamed the President for the recent partial government shutdown, which became the longest in US history, calling it "a stunt engineered by the President," and argued that the aspirations of American families "are being crushed by Republican leadership that ignores real life or just doesn't understand it."
The 45-year-old narrowly lost a gubernatorial bid in the reliably red state of Georgia last fall, but rose to national prominence in the process. She made history as the first black woman to give the Democratic response to the State of the Union.
Abrams, who has made voting rights a signature issue, warned during her speech that voter suppression is "real" and described protecting the right to vote as "the next battle for our democracy." After outlining a host of Democratic priorities, she said, "None of these ambitions are possible without the bedrock guarantee of our right to vote," adding, "Let's be clear: voter suppression is real."
Abrams continued, "We cannot accept efforts to undermine our right to vote," and said, "This is the next battle for our democracy, one where all eligible citizens can have their say about the vision we want for our country. We must reject the cynicism that says allowing every eligible vote to be cast and counted is a power grab."
"The foundation of our moral leadership around the globe is free and fair elections where voters pick their leaders, not where politicians pick their voters," she said.
Abrams ticked through a litany of other issues, ranging from gun control to immigration reform to action on climate change, criticizing the current administration and contrasting the President's agenda with those of the Democratic Party.
"We know bipartisanship could craft a 21st century immigration plan, but this administration chooses to cage children and tear families apart," Abrams said in one of her most searing criticisms.
She added, "Compassionate treatment at the border is not the same as open borders" and said that "Democrats stand ready to effectively secure our ports and borders." But in a pointed message to the President, Abrams said, "America is made stronger by the presence of immigrants, not walls."
On the subject of gun violence, Abrams said, "This White House responds timidly while first graders practice active shooter drills," adding, "from now on, our leaders must be willing to tackle gun safety measures."
The speech gave Abrams a high-profile platform to counter the President's own message to Congress and the nation and comes amid speculation that she may run for a Senate seat in 2020.
She talked about her own experience working with volunteers to give out meals to federal workers placed on furlough during the shutdown, saying, "Making livelihoods of our federal workers a pawn for political games is a disgrace."
Abrams said that the shutdown "defied every tenet of fairness and abandoned not just our people -- but our values."