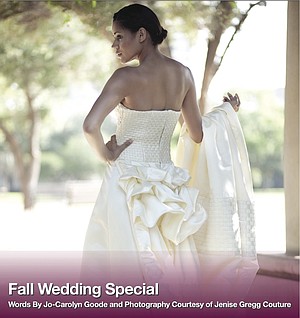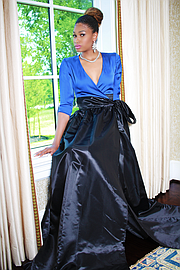 Brides are using their gowns to express more than a sense of style but also tell their personal love story with their chosen mate. A special request that Greggs had of a past bride was to include the couple's love story in the design of the gown. The tale of boy meets girl was painted on fabric and that fabric was used to make the gown. It has been the most romantic, beautiful, and unusual idea that Greggs has had to date,
For those brides who are unsure about the look, shape, and feel of their gown, Greggs has some universal tips. Most gowns that are A-Line or have an empire waist are two styles that generally look good on all body types. The fabric can be an array of materials. Personally, Greggs prefers silk cotton blends, silk satin, or double face satin. But she is quick to say that is totally a decision up to the bride because it depends on the bride's vibe.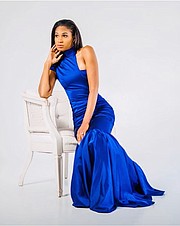 Far too often brides will purchase a dress or get one made and will not totally love everything about how they look in a particular gown. Turning to weight loss as their first solution to fix what they eyes see, Greggs issues a warning. Be wary about how your weight can redistribute when you start exercising and dieting to get your desired wedding fit look. "Even though you are losing weight, you are also creating muscle mass which the weight can be redistributed and mess up the way a gown fits," said Greggs.
If you are a woman who is uninhibited, confident, elegant, and lives on the edge then Melissa Greggs is the designer for you. Not strictly for your wedding daydreams but for the all the catwalks that beacon your presence in life for that is Melissa Greggs' woman. Allow Greggs to style you. Visit jenisegreggcouture.com.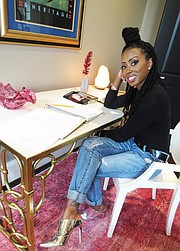 Social Media