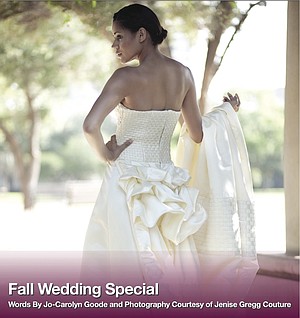 The idea of the first draft starts to formulate at a young age. As your opinion changes, adjustments are made with the passage of time. Finally, the moment comes when the final rendition is made. Some call it the most important garment that you will ever wear. It's your wedding day attire. Be it long or short, dress or pants, white or colored, your wedding day, of all things, must be special, unique, and make you feel amazing.
Designer and stylist Melissa J. Greggs, the founder of Jenise Gregg Couture, has made the dreams of countless brides come true with the gown that they have long for. She specializes in giving the bride what she wants since she finds some tend to want to lean to the opinion of their entourage instead of what's in their heart. Shopping for your wedding gown is a time for you to think selfishly by focusing on what you want and like. It is an experience that is all about you. "Find a gown that you love, not something everyone else wants to see you in. This is your moment to embrace your dreams," commented Greggs.
Starting the process of bringing your dreams out of your head to design sketch is an interactive process with Greggs. She likes to push the envelope and works best when clients give her free reign. After finding out how the bride wants to feel and look on her special day, Greggs goes to work designing around those ideas. Greggs admits, "I'm a hopeless romantic and l love to test boundaries, so that helps me design and sometimes pull my clients outside of their comfort zone." Testing the waters in this matter allows Greggs to use all of her creative juices to craft a look that is not just unique but bold, daring and most certainly different.
Being different and one-of-kind is the best part of getting a custom gown. One can guarantee that no other bride will have your distinctive look. "No one wants to see another person in their dress. Secondly, you have something tailored to fit your body" Greggs continued, "Another advantage would be co-creating. I allow my fashion dolls or clients to be a part of the process. I want them to fall in love with their gown so that they wear it, and it doesn't wear them."
Greggs, who on average designs gowns for about twelve brides a year, has a seen a little of everything go down the aisle. She takes great care in consulting with brides giving them all of her attention to them personally and to the design of their gown. And she does this simultaneously while working with other clients wanting custom designed attire for various events. Greggs' goal is to give all clients quality work. And since she is suck a stickler for details she notices the finer points like how quickly leaving that wedding aisle is tradition. Brides today are really into creating signature looks that speak more to their personal style than tradition. "I think brides are no longer following the rules of tradition. I think they are adding their own touch. It's no longer about wearing white; it's about how they feel! You can be a beautiful bride and in a no tradition gown. Trust me I'm here for going against the grain and expressing yourself through fashion," laughed Greggs as she told me about an upcoming wedding she is in where the bride is showing her contemporary side with a colored wedding gown and putting her bridesmaids in jumpers instead of dresses.
Brides are using their gowns to express more than a sense of style but also tell their personal love story with their chosen mate. A special request that Greggs had of a past bride was to include the couple's love story in the design of the gown. The tale of boy meets girl was painted on fabric and that fabric was used to make the gown. It has been the most romantic, beautiful, and unusual idea that Greggs has had to date,
For those brides who are unsure about the look, shape, and feel of their gown, Greggs has some universal tips. Most gowns that are A-Line or have an empire waist are two styles that generally look good on all body types. The fabric can be an array of materials. Personally, Greggs prefers silk cotton blends, silk satin, or double face satin. But she is quick to say that is totally a decision up to the bride because it depends on the bride's vibe.
Far too often brides will purchase a dress or get one made and will not totally love everything about how they look in a particular gown. Turning to weight loss as their first solution to fix what they eyes see, Greggs issues a warning. Be wary about how your weight can redistribute when you start exercising and dieting to get your desired wedding fit look. "Even though you are losing weight, you are also creating muscle mass which the weight can be redistributed and mess up the way a gown fits," said Greggs.
If you are a woman who is uninhibited, confident, elegant, and lives on the edge then Melissa Greggs is the designer for you. Not strictly for your wedding daydreams but for the all the catwalks that beacon your presence in life for that is Melissa Greggs' woman. Allow Greggs to style you. Visit jenisegreggcouture.com.
Social Media