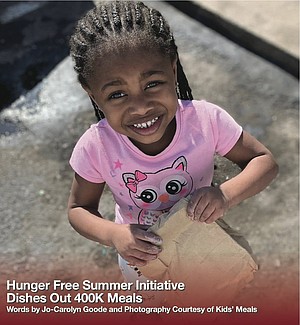 Through the generous support of donors, an army of volunteers weekly prepared the meals. The additional assistance from McDonald's Houston owner operators was a great benefit to expanding their reach this summer. McDonald's, as one children's favorite destinations, is always looking to improve the nutritional value of food as more and more become conscious about what they are putting in their children and their bodies.
"We understand that now more than ever, people care about their food – where it comes from, what goes into it and how it's prepared. We are always listening to our customers and working to build a better McDonald's." Smith added, "That starts with sourcing food responsibly and using real, quality ingredients across our menu. We believe in giving customers a variety of choices, including our Egg McMuffin, made with a fresh cracked egg, English muffin and lean Canadian bacon, Quarter Pounder, made with fresh beef and cooked to order, and Southwest Grilled Chicken Salad. We invite everyone to come in and try our new menu items." After trying their new menu items, head on over to Kids' Meals to join them in the fight to end childhood hunger by donating or volunteering your time.
Research indicates the amount of money needed for a family of four to have the basics of shelter, clothing, food, and transportation is $25,750. Forty million families in America fall below this threshold. Of that number 13 million are children. Data collected is based on the federal poverty level set by the U.S. Department of Health and Human Services. The federal income eligibility guidelines defines "working poor" as: 1) a household (individual or family) earning less than 200% of the federal poverty line – $21,660/year for an individual and $44,100/ year for a family of four with two kids – and 2) where one member of the household has spent at least 27 weeks in the labor force working or looking for work in the last year. Summer programs like Kids' Meals reach about 15% of the nation's hungry children.
And the numbers aren't getting any better. In fact, they are getting larger. "As our city continues to grow, children living in food insecure homes are also growing. In Houston, 1 in 4 children doesn't know where their next meal is coming from. Many times, Kids' Meals is their lifeline for daily nutritious food. Kids' Meals is now serving 3,100 preschool aged children each weekday, so we are making a tremendous impact. But the need is so great, with more than 24,000 children who in Houston living in impoverished homes," said Harp.
If you are in need, please sure your little ones or those you know don't go to bed with empty tummies. Applying is easy. Families with eligible children under the age of six-years-old need to fill out the one-page application and attach proof of benefits (SSI, TANF, SNAP, housing, free/reduced lunches). Applications are reviewed and once approved free weekday will be delivered directly to their home, apartment or trailers in our Kids' Meals vans.
Childhood hungry and poverty is an issue that can be controlled with the help of the community. Donations of resources and time are always welcomed. Aggressive efforts are needed to eradicate this problem. Kids' Meals projects to deliver 1 million meals over 248 delivery days, thanks to the help of 20,000+ volunteers who will share more than 70,000 hours to make and deliver meals as well as 100,000 bags of produce and pantry staples to support our families. Learn more about volunteer and donation opportunities at www.kidsmealsinc.org.