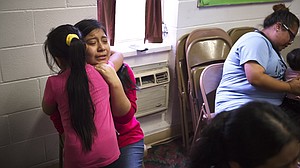 ICE spokesman Bryan Cox told CNN Monday that Gomez-Jorge does not have any prior criminal convictions. The father of four was arrested while "working without legal authorization," Cox said.
Cox said that although Gomez-Jorge has not been convicted of a crime, the US Attorney Southern District of Mississippi will decide whether he or any of the people detained last week will be deported.
All Gomez-Jorge's family can do now is search for him and wait for his release.
Magdalena seems uncomfortable with the fame she's garnered. She was very quiet when CNN visited. She worked on her homework and played with her younger siblings after school, sharing soda and candy.
The 11-year-old said her favorite subject is math, so much so that she wants to be a math teacher when she grows up.
But right now, she just wants her dad to come home. Magdalena says a lot of her friends had parents who were detained in the raids and a large number of them, like her, still have a parent in detention.
Her teachers didn't address the raid when she returned to school the day it occurred, she says.
Juana says she will continue to search for her husband and is looking for a lawyer to help the family. She's being strong for her kids, telling her daughter not to cry and that they will find a way to pay bond so Gomez-Jorge can come home.
"For my children, I want to find him," she said. "It's like there has been a death."