Suicide Prevention Starts With You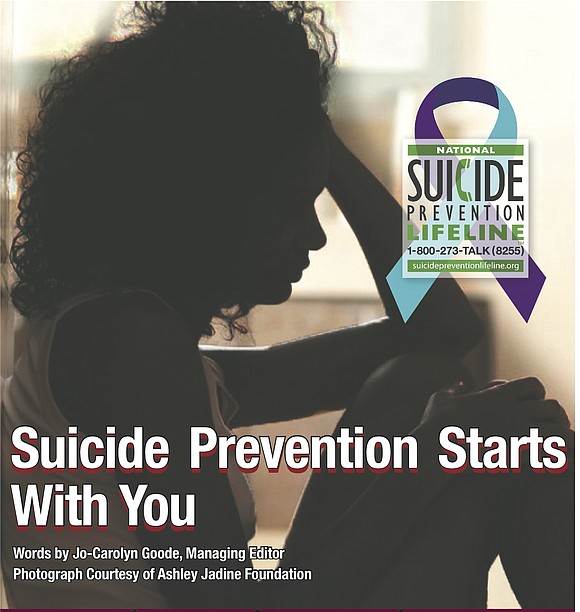 By starting the foundation Cheryl is using her tragedies to reduce the rate of suicides by shining a light of hope into the lives of those affected by depression and other issues. She makes a difference through education, advocacy and bringing awareness to the issue. Her message is hold on, there's hope – Hold On Pain Ends.
Through the foundation, Cheryl educates teens as well as parents by encouraging communication with real talk (less texting) and stressing the need for professional help. "It is such a stigma about mental illness. I want to stop the stigma, the shame, and the silence." With more communication, Cheryl believes one can get to the root cause of the pain that affects those suffering from mental illness. Stop the pain. Stop suicide ideation.
"Sometimes you have things that have happen to you that has caused you to suppress it (the pain)," said Cheryl. But families and communities can't sweep pain under the rug. They must face it head on and do all in their power to deal with it together.
Understanding the depth of the pain
Something Ashley posted about often was how life wasn't worth living through all the pain. Family nurse practitioner with a specialty in pediatrics Cashoyna Tillis said understanding the depth of one's pain is key to getting them the help that they need. In her interactions with children who are contemplating suicide, their parents know there is an issue but are not too keen on how deep it lies.

Tillis advises for parents to pay attention to how their child is acting. Is she/he crying a lot? Has he/she stopped communicating with friends and family? Are they harming themselves? Did their eating habits change? In her practice of nursing, Tillis finds that adolescent depression is usually associated with social issues like being bullied, feeling isolated, not having good thoughts about themselves. "Words from other people have a stronger impact when kids hit the adolescent phase," stated Tillis.
Since actions and words can make children really sensitive about their feelings and they view themselves, Tillis will remind children dealing with depression and suicide about their purpose in life. "I like to let kids know they were created by God for a purpose and whatever it is that is going on that they can work through it." In addition, she tries to make sure that the children have a strong support system on which they can lean to start a dialogue about how they feel and encourages them to pray.

What more could I have done?
Any time any comment is made by a child about suicide take it seriously and followed up with a mental health professional. If not, you may be left like the family and friends of Ashley questioning themselves about what more could they have done to help.
Children and parents in general just need to be real honest with themselves and their feelings. They have to learn how to accept themselves and love their being. Tillis advises parents to help children work through their problems so they won't think of ways out of their problems (like suicide ideation).
In the days after Ashley's death, Cheryl asked what more could she have done to help her child. Today, she answers that question by helping others to not have a tragic end like Ashley. "We have to be aware. We have to find someone we can trust to talk to. The schools have to be more open with the counselors and psychologists." She continued, "We need some kind of health and wellness ministry in the churches."
Suicide is a permanent end to a temporary problem. And though the pain of the one suffering from mental illness ends when suicide is committed. The pain begins for those who love and cherish that person. Suicide prevention starts with you. Pledge to be more aware this September.